World news story
International Conference on Sustainable Development
The theme of the conference was 'Business Responsibility' and focussed on three principle topics: Sustainable Supply Chains, Sustainability Innovation and Responsible Investment.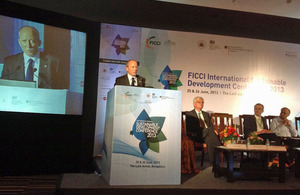 The British Deputy High Commission, Bangalore, the State Government of Karnataka, the Consulate General of the Federal Republic of Germany, and Federation of Indian Chambers of Commerce and Industry (FICCI) joined hands to promote sustainable access to resources, and sustainable growth at the International Conference on Sustainable Development, held in Bangalore 25 - 26 June.
The theme of the conference was business responsibility and focussed on three principles of business responsibility: sustainable supply chains, sustainability innovation and responsible investment.
The British Deputy High Commission, Bangalore and Consul General of Federal Republic of Germany actively supported the panel discussion on sustainable supply chains with an objective to bridging the gap between sustainable business practices of corporations in Europe and their Indian suppliers to achieve more resilient supply chains.
The discussions were led by eminent speakers with leading European companies such as Marks & Spencer and PUMA presenting success stories on cost reduction with sustainable procurement. Mona Gupta from the Apparel Export Promotion Council (AEPC) spoke about recent projects by the Ministry of Textiles to cultivate ethical practices in the supply chain and their keen interest to work on environmental sustainability. Dr. Arun Jaura from the Automotive Component Manufacturers' Association (ACMA) spoke about the need for innovations to drive sustainability in the automotive industry.
NGO Carbon Disclosure Project and Carbon offsetting experts such as Carbon Neutral and Cool Earth highlighted the UK as a leader in low carbon technology. The event had an exhibition by the Energy, Climate & Growth Unit (ECGU) of British High Commission and Visit Britain promoting the UK as a world class destination for green investment, a world leader in green research, technologies and policies and as a destination for sustainable tourism.
Ian Felton, British Deputy High Commissioner, Bangalore delivered the inaugural speech and said that high carbon economies are inefficient and costly. He also spoke about a range of opportunities including low carbon infrastructure for UK-India collaboration. Vidya Soundarajan, Regional Advisor, ECGU, moderated the session on business responsibility while highlighting our prosperity programme work on Corporate Social Responsibility. Tom Wells, Deputy Head, Science & Innovation Network was among the jury members for the Corporate Sustainability Awards. He gave an excellent speech on Sustainability Innovation during a 'Dine with Luminaries'. Phil Marker, Head of the Energy, Climate & Growth Unit (ECGU) spoke about the extensive work by the UK government on energy access and resource security in India and world-wide. Dr. Kiran Bedi, a retired Indian Police Service (IPS) officer and social activist gave a rousing speech on social responsibility.
The event helped in establishing good relationships with industry associations such as AEPC and ACMA, who are keen to work with the UK in carbon reduction for their respective sectors. Marks & Spencer expressed keen interest in seeking the UK expertise for carbon foot printing expertise for their supply chain in India. Potential also exists for opportunities in energy efficiency space with the Indian exporters in these sectors. The event also helped two UK companies Carbon Neutral and Ecometrica to tap the emerging interest in Indian SMEs for carbon management and offsetting.
Several Firsts
FICCI has held a conference of this scale on Sustainable Development in South India, and likely to be made into an annual event
the British Deputy High Commission and the Consulate General of Germany in Bangalore have worked together to give a strong European message on Sustainable procurement.
Visit Britain and ECGU joined hands to promote UK as a destination for Sustainable Business Practices and Sustainable Tourism
Backdrops for an UK stall were printed on fabric making them fully re-usable and hence reducing carbon footprint
Next Steps
Sector-specific workshops are being planned in Bangalore and Chennai within the next few months.
Published 3 July 2013