World news story
International co-operation is a key to common victory
International rally of war veterans took place in Russia in June, 28 with the support of Defence Section of the British Embassy.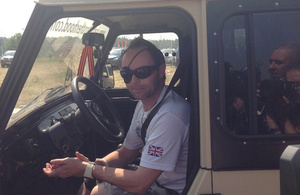 Effective teamwork of the Embassy, and Russian and American colleagues resulted in gathering together of more than 50 veterans of war operations.
14 British, 25 Russian and 14 American veterans participated in the rally. They all had served in such frontlines, as Afghanistan, Iraq and Falkland Islands where they had got injuries of different severity. However, despite all difficulties, participants of the rally proved that disability is not a cause for giving up active life.
International teams were one of the peculiarities of the rally. Each team included a British, Russian and American representative. It's especially noteworthy that this rally is not a competition only. It sets an aim to promote friendship, help overcome difficulties and bring closer common victory.
Diplomats, military attaché, representatives of veteran organizations were among guests of the rallies.
Published 2 July 2013