News story
International Climate Change Newsletter - June 2011
unsubscribe privacy policy Dear subscriber, Following the conclusion of the international climate talks in…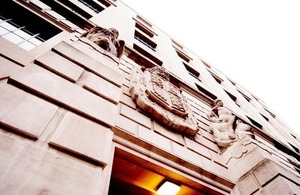 Dear subscriber,
Following the conclusion of the international climate talks in Bonn at the weekend, we look back at progress being made outside the negotiating rooms over the last few weeks.
On 8-9 June Foreign Secretary William Hague hosted the ninth meeting of the UK-South Africa Bilateral Forum, which had climate change firmly on the agenda.
Last week saw over 70 European companies come together to sign a declaration calling on the European Union to increase its climate ambition and move to a 30% emission reduction target in a move strongly supported by Secretary of State The Rt Hon Chris Huhne MP.
Also, as we move into summer we look at how UK music festivals are stepping up to the mark by introducing a number of green initiatives to reduce their impact on the environment, proving that all sectors can make a difference in the fight against climate change.
You can continue to keep up to date with HMG's international action on climate change by following these newsletters, and the coverage on the DECC, DfID and FCO websites and twitter feeds.
UK-South Africa Bilateral Forum
The UK- South Africa Bilateral Forum took place at Lancaster House, London, on 8-9 June 2011.
This year's forum was hosted by Foreign Secretary William Hague and co-chaired by South African Minister for International Relations and Co-operation, Ms Maite Nkoana-Mashabane.
Themes of discussion included trade and investment, climate change & renewable energy and foreign policy. With the upcoming 17th Conference of the Parties of the United Nations Framework Convention on Climate Change (UNFCCC) this year in Durban, climate change and renewable energy were central to the discussions.
The Foreign Secretary offered his full support to South Africa as they prepare for Durban. The Rt Hon Chris Huhne MP, Secretary of State for Climate Change and Energy, held talks with both Foreign Minister Nkoana-Mashabane and Water and Environment Minister, Edna Molewa. The UK and South Africa are both committed to an ambitious global climate change agreement and have agreed to work together to achieve this.
Read more on the FCO website.
Read the response to the Bilateral Forum from the UK Climate Change Team in South Africa.
Huhne welcomes business support for 30% emissions cut
15 June: Energy and Climate Change Secretary The Rt Hon Chris Huhne MP welcomed the call from more than 70 European companies for the European Union to increase its climate ambition and move to a target to reduce greenhouse gas emissions by 30% by 2020 from 1990 levels.
The Rt Hon Chris Huhne MP said:
"More and more businesses now realise that Europe's future prosperity lies in a low-carbon economy.
"There is a danger that the current lack of resolve from the EU will put a brake on the growth aspirations of some of Europe's biggest firms.
"Backing from major corporations such as Ikea, Coca Cola and M&S will put greater pressure on the EU to raise its emissions reduction target to 30% and to establish clear incentives for low-carbon growth as soon as possible."
The declaration signed up by European companies can be found on the WWF website.
UK festivals going green
This summer's festival season looks set to have a greener footprint as well as blue skies. The Isle of Wight festival, which kicked off the season last weekend, has revealed that it cut its greenhouse gas emissions by 22% last year, while July's Lovebox in London slashed 38% from its environmental impact.
They will be joined this year by many of the biggest festivals aiming to add a clear conscience to the party experience. Reading, Leeds, the Big Chill, T in the Park and Bestival have all signed up to the 10:10 climate campaign and pledged to cut their carbon.
"There is a critical mass now of festivals that want to be green," said Alison Tickell, director of music industry greening specialists Julie's Bicycle, which works with the festival organisers.
Read more on the Guardian website.
Best of the blogs
Also in the news
Bonn talks tackle post 2012 carbon market fears
Diplomats gathered at the latest round of climate change negotiations in Bonn are attempting to tackle the question of what happens to the global carbon market if the Kyoto Protocol expires in 2012 without a legally-binding replacement.
Keep in touch
---
If you no longer wish to receive these emails, you can unsubscribe here.
Published 15 June 2011