International Climate Change Newsletter
unsubscribe privacy policy Dear subscriber, Economics has been a hot topic over the past fortnight. The European…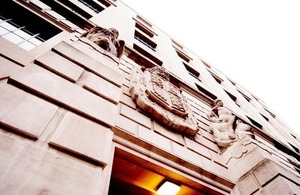 Dear subscriber,
Economics has been a hot topic over the past fortnight. The European Union (EU) Council met last week where Prime Minister David Cameron pushed to limit any increase in the EU budget and called for greater transparency on what the EU spends its money on.
At the start of this week, The Rt Hon Chris Huhne MP, Secretary of State for the Department of Energy & Climate Change, set out his vision for green growth, calling for a 'new kind of economy'.
And today sees the launch of the report of the UN Secretary-General's High Level Advisory Group on Climate Finance (AGF), which aims to take forward the commitment of developed countries to provide financial assistance to poorer countries in meeting the climate challenge.
Low-carbon sector a £3.2 trillion market
The Climate and Energy Secretary The Rt Hon Chris Huhne MP explained the economic benefits of a green economy in his speech at the London School of Economics. He explained that 'the global low-carbon and environmental goods and services sector is a £3.2 trillion market'. Read his speech or watch the video.
Delivering goals set in the Copenhagen Accord
At the last round of negotiations for the United Nations Framework Convention on Climate Change (UNFCCC), developed countries committed to mobilising $100 billion of public and private climate finance a year by 2020. A report published by Ban Ki Moon's Advisory Group on Climate Finance today explains the feasible sources that can generate the scale of finance needed.
Vulnerable countries appeal for urgent action
Discussions held this week by the Cartagena Group/Dialogue for Progressive Action in Costa Rica and by the Alliance of Small Island States in Grenada, called for urgent action on climate change. The forums enabled countries to identify common ground on the key issues before the climate negotiations in Cancun at the end of the month.
The Rt Hon Chris Huhne MP attends pre-Conference of Parties meeting
The Rt Hon Chris Huhne MP is currently attending the pre-sessional consultation meeting in Mexico City known as the ''Pre-COP''. The 2 day meeting is an opportunity for countries to come together and prepare the groundwork for the 16th Conference of the Parties to the UNFCCC (COP16) in Cancun. The meeting will enable Ministers to discuss how they plan to manage the various strands of negotiation and establish shared ground on expectations for what it can deliver.
Global agreement on biodiversity
Environment Secretary Caroline Spelman welcomed the new agreement reached in Nagoya, Japan, for setting targets to protect the natural environment. The agreement was reached at the tenth meeting of the Conference of the Parties Convention on Biological Diversity.
Best of blogs:
Also in the news:
On video:
Keep in touch:
---
If you no longer wish to receive these emails, you can unsubscribe here.
Published 5 November 2010