International Citizen Service: Young Scots to change lives
Today young people in Scotland were encouraged to apply for a 'life-changing' volunteering scheme to help tackle poverty overseas.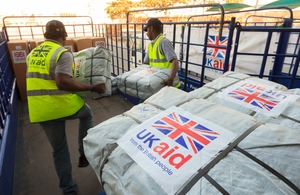 International Development Minister Alan Duncan, who was visiting his department's Scottish headquarters, spoke to young people about the International Citizen Service (ICS).
The scheme, backed by the British government, offers young people from all walks of life the chance to volunteer overseas to help some of the world's poorest people while gaining valuable life and professional skills.
Speaking at the Department for International Development's (DFID) East Kilbride offices, Alan Duncan said:
ICS is a great opportunity and I urge more young Scots to volunteer. They have the chance to make a lasting difference and learn valuable skills at the same time. "It's wonderful to meet these volunteers today and to hear such inspiring stories. ICS has changed their lives as well as the lives of some of the world's poorest people."  
ICS will send 7,000 young people from the UK over the next three years to work in partnership with young people in developing countries, on projects to fight poverty.
Ben Kirley, who lives in Glasgow, said of his experience in Sierra Leone:
This was an unforgettable and perspective-changing experience. I was particularly proud of the community work we did on the upcoming elections, looking at freedom from intimidation and violence when voting, which was very well received. I would definitely recommend the scheme to others.
Michael Hill, from VSO which manages the programme said:
Ben's achievements show what a fantastic opportunity International Citizen Service is for young people in Scotland and we'd like to see more young Scots follow in their footsteps. We were delighted that the Minister of State could meet our volunteers, to hear their positive stories and support them in their continued journey as international development champions.
Small groups of UK volunteers aged 18-25 are paired with young people from a developing country. Together the volunteers work on aid projects that meet the greatest need identified by local people, such as access to clean water.
Rapid Response Facility
Yesterday, Alan Duncan also met the charity Mercy Corps in Edinburgh following their recent selection for a new UK rapid response network: the Rapid Response Facility.
The charity will be among those able to respond more quickly to major crises across the world, mobilising life-saving support in the critical hours following a humanitarian disaster.
Published 15 May 2012