International Citizen Service: Young people fight poverty
Thousands of British young adults will help to fight poverty around the world with the UK's International Citizen Service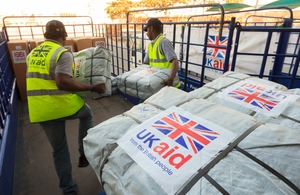 Thousands of British young people will help to fight poverty around the world, thanks to the UK's innovative International Citizen Service, the Prime Minister David Cameron said today.
The scheme - designed to put youngsters at the forefront of the UK's efforts to tackle global poverty - is being expanded after a successful pilot.
The initiative takes 18 to 25 year-olds to work directly alongside local volunteers for 10 to 12 weeks in a developing country on projects to improve the lives of the world's poorest people. It will help reduce poverty overseas as well as broaden the horizons of young adults and develop key skills such as team working.
The expanded Government programme will send 7,000 young people from the UK over the next 3 years to work in one-to-one partnerships with young people in developing countries, on projects to fight poverty where help is most needed.
Prime Minister David Cameron said:
The International Citizen Service programme will have a real impact on the lives of both those abroad and our young people from the UK, not just over the next three years but for years to come.

The service will create thousands of international development champions, bringing together young people from all walks of life. This life-changing experience is a chance for young volunteers from all over the country to really understand the many challenges faced by people from very poor countries, and to do something positive to help. It will not only broaden their horizons but it will build the confidence necessary to achieve their personal and professional goals in later life.

We all know the passion, dedication and skills that young people have to offer. It is this that will be the real driving force to bring about change, and to really help tackle poverty locally.
Secretary of State for International Development Andrew Mitchell said:
The International Citizen Service pilot scheme has already given over 1000 young people from the UK the chance to directly contribute to tackling poverty in some of the world's poorest countries.

I am delighted to announce that we are extending this opportunity, providing a further 7000 placements over the next three years. This will give many more young people who might otherwise not be able to afford it the chance of a life-changing experience. They will gain new perspectives, greater confidence and higher aspirations. They will also make a real difference to the lives of people in developing countries.
The flagship scheme pairs small groups of UK volunteers with young people in the country they visit. Volunteers take part in pre-departure fundraising towards their placement, engaging them in community action before they leave the UK.
Together, UK and in-country volunteers will work on a development project, live together and share experiences and insights. The UK volunteers are drawn from across the country and from a wide range of backgrounds.
The projects they work on overseas are suggested by local people, addressing the needs of the community. Some of the countries volunteers will be working in include: Ethiopia; Burkina Faso; Bangladesh and El Salvador, demonstrating a commitment to poverty fighting across the globe.
Analysis from the pilot phase of the programme so far shows clear evidence of profound and positive impacts, reaching nearly one million beneficiaries.
Examples of the kinds of activities demonstrating the impact to date include:
Working with local young people, to start the first school club for disabled and vulnerable children in southern Ethiopia
Organising over 800 young people in Kenya to spread the word on how to reduce the rate of HIV/AIDS
Training local young people to train other young people across Nepal in safe sexual health education
Helping a women's cooperative in Burkina Faso market their food products internationally through use of the web, social media and brochures.
The service works through established and respected UK development organisations including VSO, Restless Development, International Service, Progressio, Raleigh International , International Red Cross and Tearfund.
The scheme is closely linked to the National Citizen Service which last year saw over 8000 young people using their summer holidays to work together to create social action projects in their local communities. This will rise up to 30,000 16 year-olds this year with many of the projects carrying on well beyond the end of the programme.
Published 23 April 2012