World news story
International Child Protection Certificate launched in Sofia
The initiative requires UK citizens or these who have resided in the UK, who work with children in Bulgaria, to obtain an International Child Protection Certificate to prove a clean conviction record.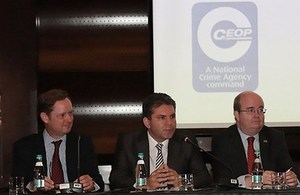 The National Crime Agency (NCA), in conjunction with British Embassies in 11 countries in southeast Europe, launched International Child Protection Certificate in the region. The document aims at stopping British nationals and residents who may be seeking to travel and work overseas to sexually abuse children. The Certificate will only be issued following checks made against police information and intelligence databases.
The adoption of the Certificate was part of a regional conference on online child sexual exploitation and abuse and other forms of cyber enabled crime that took place in Bucharest from 29 June-3 July 2015. Law enforcement and prosecution representatives from southeast Europe, including from Bulgaria, attended the conference. They shared best practices and knowledge around cybercrime involving children, and discussed ways for joint working between law enforcement and industry partners.
Emma Hopkins OBE, British Ambassador to Bulgaria, commented:
The International Child Protection Certificate is an additional tool to help us protect our children from those people engaged in the offence of child sexual exploitation. It allows up to share intelligence internationally and extends cross border cooperation. The adoption of the International Protection Certificate also adds value to the cooperation between the UK and Bulgaria in protecting children.
The International Child Protection Certificate is already being used in 74 countries worldwide and has been officially launched in Kenya, Thailand, Vietnam, the Philippines, Cambodia, Ukraine, Spain, India and Poland. To date, a total of 13,000 applications have been received by the NCA. It is a significant step towards providing reassurance that staff employed in schools and voluntary organisations do not have a UK criminal record that makes them unsuitable to work with children.
Published 6 July 2015