International assessment sets out action to meet MDGs
Helen Clark, head of UNDP launches international assessment of action needed to meet MDGs.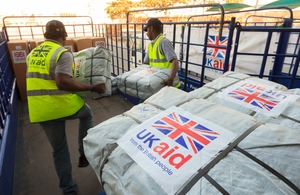 Yesterday in New York, Helen Clark, head of the United Nations Development Programme launched the international assessment of what is needed to meet the Millennium Development Goals. Drawing on evidence of what has worked in 50 countries, UNDP's report provides eight action points to accelerate and sustain development progress over the next five years. The report will be shared with member states as they prepare the outcome document for the September MDG Summit.
On its publication, Andrew Mitchell, Secretary of State for International Development, said:
"This assessment underlines the need for countries to agree an urgent action agenda at the UN Summit in September if we are to achieve the Millennium Development Goals by 2015. We need to focus on what works and use proven strategies in areas where we are off track.
"The UK will remain at the forefront of international efforts to achieve the MDGs and our commitment to results-focused, transparent development is part of our duty to British taxpayers to ensure we get the maximum value from every pound we spend."
Published 18 June 2010