World news story
Interactive dialogue with the UN Commission of Inquiry on Syria, 23 June 2015
The UK delivered a statement on Item 4 during the interactive dialogue with United Nations Commission of Inquiry on Syria, at the Human Rights Council, Geneva.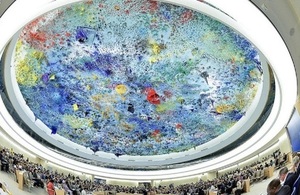 Mr Pinheiro,
The UK is a firm supporter of the Commission's work. The evidence presented by the Commission, in its numerous reports on the human rights violations and abuses taking place in Syria, make clear the brutal nature of the Assad regime and the cruel and bloodthirsty character of terrorist groups such as ISIL.
The brutality shown by Assad over the last few months is an outrage, especially in Aleppo Governorate, which has seen some of the worst shelling and aerial bombardment, such as the use of barrel bombs. The Syrian Observatory for Human Rights documented 6,657 deaths in May, the highest monthly death toll so far this year.
We must be clear about Assad's record: he responded to a peaceful protest with violence; he lied to the world about his use of chemical weapons against the Syrian people; he continues to conduct air attacks on defenceless civilians; and he has unlawfully and arbitrarily detained, tortured and executed thousands of Syrians.
Assad claims to be fighting terrorists, but has done little to stop their progress, allowing the rise of extremists groups such as ISIL and Al Nusra Front. If we are to rise to the challenge these terrorist groups pose, we must help moderate forces come together to agree a future free from the Assad regime. And we must work towards a political solution, supporting the ongoing work of the UN Special Envoy.
The UK condemns in the strongest terms all violations and abuses of human rights in Syria. The perpetrators must be held to account. We will continue to work for a political transition in Syria to secure an inclusive government which can represent all Syrians.
Mr Pinheiro, what do you see as the most useful new areas for the Commission to investigate in Syria?
Thank you.
Published 23 June 2015