World news story
Interactive dialogue with the UN Commission of Inquiry on Syria, 21 September 2015
The UK delivered a statement under Item 4 during the interactive dialogue with the United Nations Commission of Inquiry on Syria, at the 30th Session of the Human Rights Council, Geneva.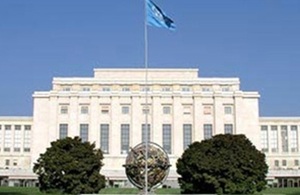 Mr Pinheiro,
The UK remains a firm supporter of the Commission's work. Your reports continue to highlight the heinous crimes being committed in Syria, documenting numerous abuses and violations of human rights by both the Assad regime and terrorist groups, including ISIL/Daesh.
The human rights situation has led to more than 4 million people fleeing the country, with nearly 8 million internally displaced. Civilians are fleeing shelling, aerial bombardment and barrel bombs, chemical weapon use, and other forms of indiscriminate attacks, as well as arbitrary detention and sexual violence. These are tactics that seek to instil fear, as well as cause harm. For over four years these actions have continued unabated, and in recent months have increased in intensity.
Instability and insecurity has led directly to the migration crisis that affects both neighbouring countries and the wider region. We cannot hope to manage this crisis without providing greater assistance to refugees in host countries. The UK has played its part by providing over £1bn in humanitarian aid. But we must not forget that the root cause of this migration stems from Assad's treatment of his own people.
Assad claims to be fighting terrorists, but has done little to stop their progress, allowing the rise of extremists groups such as ISIL/Daesh. We must help moderate forces come together to agree a future free from the regime. And we must work towards a political settlement, supporting the ongoing work of Special Envoy De Mistura.
The UK condemns in the strongest terms all violations and abuses of human rights in Syria. The perpetrators must be held to account. We will continue to work for a political transition in Syria to secure an inclusive government which can represent all Syrians, and fight terrorist groups effectively.
Mr Pinheiro, the Commission is now in an unprecedented fifth year. We must continue to shine the spotlight on Syria. How can we ensure that your work continues to receive the attention it merits?
Thank you.
Published 21 September 2015