Insurance helps Africa's drought-hit herders rebuild lives
The first payouts of a new scheme are helping East Africa's farmers to recover from the devastating drought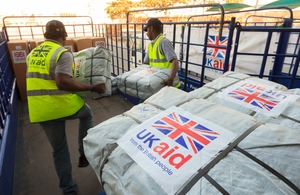 An innovative insurance scheme to help East African farmers recover from the devastating drought is making its first payouts today with the help of British aid.
The new programme will cushion the blow for animal herders in the Horn of Africa by providing payments to cover the loss of their cattle, goats, sheep and camels.
The UK aid funded initiative will compensate more than 600 insured herders in the Marsabit District of northern Kenya where some have lost a third of their animals.
In the worst affected areas, the payments will provide enough money for policy holders to buy replacement animals, helping herders to rebuild their lives and livelihoods.
The scheme draws on the latest technology to keep track of livestock levels by using freely-available satellite data to assess the state of pastures and to accurately predict animal deaths.
When the images show that pastures have dried up, herders can claim compensation for animals that have died as a result, based on the predictions made. This new system bypasses the high costs and difficult logistics that had be overcome to confirm animal deaths in the past, as herds roam across vast distances in extremely remote areas.
The insurance programme was developed with the help of British aid, in partnership with the Nairobi-based International Livestock Research Institute and a group of leading universities and international insurance companies.
International Development Secretary Andrew Mitchell said:
This insurance scheme is a great example of how partnerships with the private sector can lift people out of poverty and provide long-term solutions to food crises.

To many farmers, losing their cattle means losing everything, as they are not just a source of income but are their only source of food.

Support from Britain and others means that more than 600 herders in Northern Kenya can buy more cattle to replace those they have lost. This means they are better able to cope with this and future devastating droughts.
Dr Andrew Mude from the International Livestock Research Institute said:
Drought insurance is one important way to help livestock keepers maintain food security even in very harsh environments.

This is asset insurance for animals that are the centerpiece of livelihoods, providing a stream of income and nutrition for years and years.
Across East Africa, an estimated 70 million people live in the drylands, many of whom are herders.
In Kenya, the value of the livestock sector is estimated to be worth US$800 million. The Marsabit District alone is home to some 86,000 cattle and two million goats and sheep that generate millions of dollars in milk and produce and that serve as the main source of food and income.
Around 2,500 herders have bought the insurance since the scheme opened in early 2010, paying a yearly fee of up to US$100 for 6-8 animals. So far, the policies cover about 1100 animals, mostly cattle but some goats, sheep and camels as well.
The British Government is currently considering a proposal to increase its support to this innovative programme as it is rolled out in districts across northern Kenya.
Published 21 October 2011