World news story
Inspire Egypt: Slow Food comes to the British Embassy
UK celebrates the Egyptian Slow Food network working to provide good, clean and fair food across the country.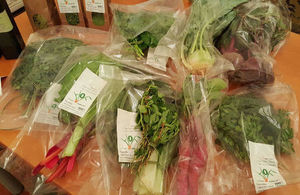 On Sunday 29 January, the British Embassy hosted a Slow Food Reception in the Residence as part of its Inspire Egypt initiative, which highlights inspirational Egyptians from all walks of life, bringing them together and investing in their potential to help make a difference to Egypt and the rest of the world.
The event was a celebration of local organisations who are working to redefine food production and consumption systems through linking the pleasure and traditions of Egyptian food with a commitment to the community, the environment, and economic and gender inclusion. Egypt's food heritage and the challenges of sourcing ingredients from small-scale producers were discussed as guests enjoyed food made from local produce from the Slow Food Cairo network, prepared in collaboration with Nafas School of Agroculinary Arts and Sciences, Ma7ali, a local delicatessen and grocery, downtown restaurant Eish & Malh that focuses on local and sustainable produce, and Nawaya Egypt, a community kitchen employing women from rural districts.
The Residence also turned its rooms into a marketplace, where 13 local groups displaced their food, and guests had the chance to talk to the producers about the benefits of clean, locally produced food, and the challenges they face. The event was the culmination of a month of activity. British Ambassador John Casson visited Minnie's Dried Fruits and Vegetables and Baladini's farms in Dashur and Sakkara respectively, to see where local produce was grown, and try for himself the techniques used to produce local cheeses, breads, and butter.
UK Ambassador to Egypt John Casson said:
The UK is working to empower inspiring Egyptians who are building a better economy from Aswan to Alexandria. Today we celebrate the Slow Food entrepreneurs who are taking Egypt's great agricultural potential and turning it into good, clean, fair food and new jobs in Egypt's rural areas. If you have never tasted this amazing Egyptian food you have a treat in store.
Sara El-Sayed said:
Tonight's event allowed the Slow Food Egypt network to start a conversation about local food though the British Embassy's Inspire Egypt programme. We are looking forward to showcasing our "good, clean and fair" food from our producers and discussing what we can all do to protect local, indigenous and artisanal products
Published 31 January 2017