News story
Inspection report published: Stansted Airport
The Chief Inspector makes 9 recommendations for improvement.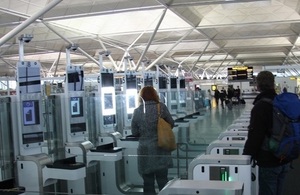 The Independent Chief Inspector of Borders and Immigration, David Bolt, has published his inspection report on Stansted Airport.
The completed report was sent to the Home Secretary on 1 February 2018.
Mr Bolt said:
Stansted is the UK's fourth largest airport (after Heathrow, Gatwick and Manchester) and Europe's busiest single terminal airport. In the year to September 2016, it handled 24 million passengers (arrivals and departures).

My predecessor inspected Stansted Airport 2013. Since then, I have inspected Heathrow, Gatwick and Manchester airports. The findings and recommendations from these inspections informed the scope of this inspection, which focused on Border Force's immigration and customs functions at Stansted, including use of e-Passport gates. In June 2016, Stansted went from 15 to 30 gates, which at that time was more than any other UK airport.

Stansted's owners, Manchester Airport Group (MAG), are planning to make extensive improvements to the airport, including constructing a second terminal building. The intention is to have one terminal for arrivals and another for departures, which will be unlike any existing UK airport. While these plans are noted within my report, they are not explored in detail as, at the time of the inspection, they did not materially affect Border Force's current operations. As those plans develop, Border Force's preparations and readiness to respond to the major changes they will entail are a likely topic for a further inspection.

During this inspection, as is customary, inspectors spent time at Stansted observing Border Force in action, and interviewing and holding focus groups with staff. The report reflects their views as expressed. It also reflects the views of Border Force management, informed inter alia by the results of the most recent (2017) People Survey. It is fair to say that these views differ substantially on some key points.

Whether the People Survey results are a more reliable indicator of staff engagement than the views expressed to inspectors, which is Border Force's contention given that two-thirds of Stansted staff responded to the Survey, the comments made to inspectors point to the fact that Border Force management has more to do to connect with some members of its Stansted team. The report contains 9 recommendations for improvement. Those in relation to communication and the provision of training are most relevant in terms of further improving staff engagement at Stansted.
An Inspection of Border Force Operations at Stansted Airport
Published 28 March 2018