News story
Insolvency Service beats targets
The Insolvency Service exceeded all our published targets last year, our annual report shows.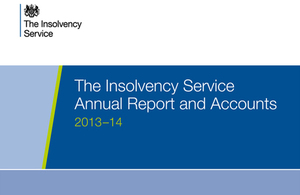 The agency's annual report for 2013/14 was laid in Parliament today. Performance targets are set by the Minister for Employment Relations and Consumer Affairs and cover a range of efficiency measures including the timeliness of processes, customer satisfaction and stakeholder confidence.
Key results include:
Achieving 1,273 director disqualifications, with a six year average length of disqualification undertakings and orders
Winding up 168 companies in the public interest following investigations by the agency
Processing 75,387 redundancy claims
Achieving a 95.6% customer satisfaction rating
Increasing stakeholder confidence in the insolvency investigation and enforcement regime from 66% to 69%
Insolvency Service Chief Executive Dr Richard Judge said:
"Britain's insolvency regime is consistently ranked in the World Bank's top 10 giving confidence to investors that this is a good place to do business. In the past year the Insolvency Service has met and exceeded all of our published targets. We achieved over 1,200 director disqualifications with each having a net benefit to the economy of £100,000. Redundancy payments were processed ahead of target helping people to move on in what is usually a difficult time. Initiatives such as the launch of a new single Complaints Gateway and £30 million of annual process savings identified through the Red Tape Challenge demonstrate the value of working closely with our partners to build a more efficient and robust insolvency regime.
"Our successes have been achieved in a rapidly changing business environment which has seen total insolvencies fall by 25 per cent over the past four years with a consequent fall in fee revenue for the agency. Our programme to deliver a more efficient and customer focused agency is well advanced with significant progress to digitise redundancy payments, a rationalised office network and investment to upskill our people."
Published 17 July 2014