News story
Inside Porton Down documentary
The behind the scenes BBC FOUR documentary featuring Dr. Michael Mosley is now available to watch on BBC iPlayer.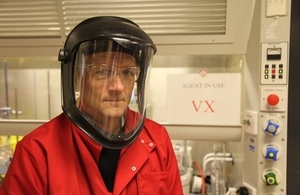 To help mark the 100th anniversary of defence operations at Porton Down, the Defence Science and Technology Laboratory (Dstl) gave a BBC team unprecedented access to produce a behind the scenes documentary, Inside Porton Down.
Watch the Inside Porton Down documentary on BBC iPlayer
During their filming the BBC were given high levels of access to Porton Down's facilities and scientists, showing how Dstl is using cutting edge science and technology to counter threats, existing and new, to the public and the Armed Forces. This included access to research into the development of the latest generation of chemical and biological countermeasures.
The Chief Executive of Dstl, Jonathan Lyle, said:
I am immensely proud of the work that Dstl's staff are doing to protect our Armed Forces and our citizens. For example, we played a critical role in the UK's effort to tackle the Ebola outbreak in Sierra Leone and we are making a vital contribution to countering terrorism both at home and overseas.
He added:
Dstl seeks to be open about the type of work that we do at Porton Down and at our other sites across the UK. However, for obvious reasons of national security there are some aspects of our work that must remain secret.
While Dstl has allowed other media onto its site in the past, the documentary team was, on this occasion, given unprecedented access.
A fact sheet, addressing some of the common myths about Porton Down is now available.
Published 13 December 2016
Last updated 20 March 2017
+ show all updates
Updated to publicise new broadcast date
Link added to BBC iPlayer
First published.