Innovative funding scheme delivers lifesaving vaccines
Private donations, to be doubled by the UK Government, will help immunise millions more children around the world.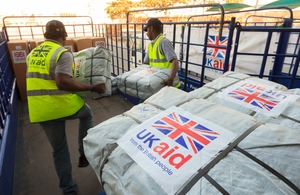 A series of private donations - to be doubled by the UK Government and Gates Foundation - will help immunise millions more children against killer diseases.
New donations announced today will go to support the GAVI Alliance Matching Fund - an innovative scheme that matches private pledges with public funds to pay for its lifesaving vaccination work around the world.
This latest backing - including contributions from Comic Relief and the Children's Investment Fund Foundation - add to the support already promised by firms such as the Anglo American global mining company and JP Morgan investment bank, as well as international charities like the Absolute Return for Kids (ARK).
The British Government has vowed to match up to £50 million donated by private sector organisations in the UK, their employees and customers.
The US-based Bill & Melinda Gates Foundation is making a similar match of up to US$50 million in pledges by other public and private backers.
Development Secretary Andrew Mitchell said:
The generous support from Comic Relief and the Children's Investment Fund Foundation will help us deliver real results for the poorest. The British Government and Gates will match donations to help vaccinate many more poor children against killer diseases which are easily prevented.

We cannot do this alone. World leaders and private enterprise must work hand in hand if we are to fight ill-health and disease across the developing world. Firms and foundations gathered at World Economic Forum should take this chance to contribute to this vital programme to deliver real, tangible results.
Nearly US$50 million has been raised so far through the fund in support of The Global Alliance for Vaccines and Immunisation (GAVI).
In its first decade of work, GAVI has financed the immunisation of more than 326 million children and prevented more than 5.5 million premature deaths.
In June last year, Prime Minister David Cameron announced Britain's support of GAVI to vaccinate more than 80 million under-fives against killer diseases like pneumonia and diarrhoea as part of a broader collective effort.
The UK has been lobbying international donors to contribute significant sums to GAVI since the turn of the year when it became clear it was a top performer in International Development Secretary Andrew Mitchell's root-and-branch aid review, securing an unprecedentedly wide base of potential donors.
Published 26 January 2012