World news story
Innovation is GREAT with Triumph Motorcycles Japan
British motorcycle manufacturer teams up with British Embassy Tokyo to showcase UK innovation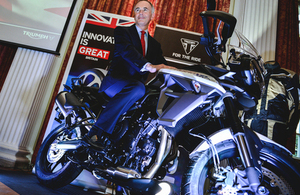 British Embassy Tokyo hosted a special press event with Triumph Motorcycles Japan on Wednesday 17 December.
The British motorcycle manufacturer teamed up with the embassy as part of the British government's global GREAT Britain campaign, designed to showcase the best of what Britain has to offer in order to encourage the world to visit, study and do business with the UK.
British Ambassador to Japan Tim Hitchens spoke about UK strengths in innovation before Triumph unveiled their new touring motorcycle the Tiger 800 XRx/ XCx to the audience.
Ambassador Tim Hitchens said:
Triumph is a company steeped in engineering history that can trace its roots all the way back to the English town of Coventry in 1886. But behind the classic heritage, lies a very modern - and very British - commitment to innovation through world-class automotive technology and innovation.
Britain is an island of innovators. Our discoveries, inventions and ideas have a profound impact on the world. British technology can be found in everything from software to spacecraft. What's more, as Japan's major automobile manufacturers with factories in Britain will tell you, the UK makes things. That's why we're teaming up with innovative British brands like Triumph Motorcycles to showcase the latest British products in Japan and let British innovation speak for itself.
Innovation is GREAT will be a major focus for the embassy work's in Japan in 2015. When Prince William Duke of Cambridge visits Japan early next year he will launch a year-long Innovation is GREAT campaign to generate business, educational and R&D partnerships between the UK and Japan.
Published 18 December 2014