World news story
Innovation in Cancer Clinical Trials - sharing international experience
On 15 May 2015, the British Embassy Tokyo hosted an International Symposium on Cancer Clinical Trials.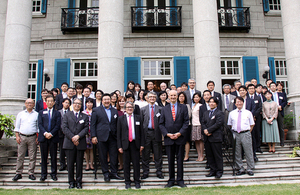 The event is a partnership with the Japanese National Cancer Center (NCC), the US National Cancer Institute (NCI), Health and Global Policy Institute, Embassies of the USA, France and the Republic of Korea.
Oncology is among the most complex and expensive areas in which to conduct research. The symposium brings together experts from 5 countries to promote exchange of knowledge and good practice and strengthen scientific networks between researchers, industry, government, patients and the public. This symposium builds on links established through a previous event in 2010. By coordinating research with international partners, the participants hope to make faster progress in cancer research, building on the investments in cancer research made around the world.
Professor Matt Seymour, Director of the UK's NIHR Clinical Research Network: Cancer and Clinical Research Director of NCRI (the National Cancer Research Institute) explained the importance of networks for more effective trials,
The UK community of clinical practice, involving partnerships between health professionals, patients, universities, charities and industry partners, is increasing the scope and quality of clinical cancer research throughout the UK. Our experience shows clinical research and quality of patient care go hand in hand.
Engagement of patients is vital to ensure the most effective treatments can be developed. The UK leads the world in the proportion of cancer patients recruited to clinical trials – one every 6 British cancer patients diagnosed now take part in trials.
Dr Ted Trimble, Director of the US National Cancer Institute's Center for Global Health explained,
Clinical research with a strong voice for patients is vital for translating science into new treatment and improving the prevention, screening and diagnosis.
Dr Tomomitsu Hotta, President of the NCC highlighted the importance of open exchange of scientific knowledge is a critical goal in the fight against cancer,
International collaboration is the new standard. The development of effective cancer therapy must move beyond a single organisation or a single country approach.
On 14 May, the NCC hosted an experts meeting on developments in precision medicine for cancer and discussions with patient advocacy groups.
For more information on patient involvement in UK clinical trials, check the National Institute for Health Research website.
Published 3 June 2015