World news story
Innovation and partnering with Eisai
A recording of a UKTI Japan webinar introduces potential business opportunities between Japanese pharmaceutical giant Eisai Co., Ltd. and UK companies.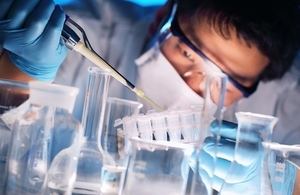 As a research-based pharmaceutical company with its European regional headquarters in the UK, Eisai continues to expand its UK profile through:
an open innovation strategy
strategic partnership initiatives
an academic-industrial alliance
Top opportunities
This recorded webinar provides detailed information about Eisai's business and partnership strategy, offering an insight in to how this company operates and what they are looking for.
You can gain a strong understanding of the following:
areas of possible collaboration between Eisai and your company
the company's strategy for product development
Eisai's areas of commercial focus, including; oncology, neurology, gastrointestinal disorders and critical care
Watch our video to take your next steps towards collaboration with this leading Japanese pharmaceutical company.
Preview: Innovation and Partnering with Eisai
About Eisai Co., Ltd.
They are Japan's fifth largest research-based pharmaceutical company with sales of over 600 billion yen in 2013. In the UK, Eisai established the European Knowledge Centre (EKC) in Hatfield to incorporate all different teams under one roof from Research and Development (R&D) to production. EKC has over 500 employees including 60 research staff and 200 clinical development staff.
Operating on a global scale, the Eisai Group is committed to enhancing the lives of patients by maximising the value of multiple global brand products.
Next steps
Watch the full webinar to find out how to connect with Eisai.
Contact the UK Trade and Investment (UKTI) Japan team for further advice and support on doing business in Japan.
Published 2 February 2015