News story
Innovate 2016: a global showcase for UK's best innovation talent
Innovate 2016 will bring together the UK's most exciting innovators and explore the technologies and innovation opportunities of the future.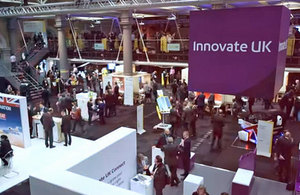 Organisers are expecting more than 2,500 delegates to attend Innovate 2016. These will include high-growth innovative businesses, investors, academia and government.
Among the diverse range of innovative organisations taking part, cutting-edge UK innovators will be showcasing their latest innovations including:
Companies like these took part in Innovate 2015
Arctic Shores: Design in Innovation winners 2015
About Innovate 2016
Innovate 2016 takes place 2 to 3 November at the Manchester Central Convention Complex.
Businesses can find out about the range of research expertise and government support available. They can connect with global corporates and find export opportunities and investors.
There are also opportunities for informal and formal networking.
Day 1 of the event will explore the impact of digital technologies on manufacturing. It will also focus on the new challenges and opportunities of our growing urbanisation.
Day 2 will look at how new technologies are revolutionising healthcare and biosciences. There will also be a focus on the technologies that have the potential to create brand new industries.
On both days we will be running 'How to…' workshops. These will give businesses practical advice on:
scaling-up
navigating R&D tax and investment schemes
going global
Innovate UK and the Department for International Trade will host the event.
How will your business benefit from attending Innovate 2016?
Phil Smith, CEO Cisco UK at Innovate 2015 - what do businesses attending get out of it
Published 9 September 2016