Innovate 2015 backs Oaktec's novel gas-powered engine with 'cash'
Lancashire R&D engineering company wins 'peer-to-peer' competition after 15 years' development of low emissions, low-cost Pulse-R engine.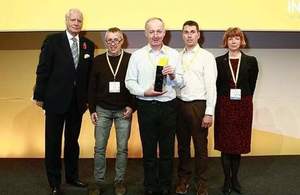 Oaktec: Innovate 2015 Peer to Peer award winners
A small gas-powered engine developed by Lancaster-based engineering R&D company Oaktec has been judged the innovation most likely to attract investor backing at Innovate 2015.
Fellow entrepreneurs and delegates were given novelty banknotes and asked to choose which company with a particularly innovative product and service they would be most likely to invest in.
It was Oaktec who attracted most 'cash' with Pulse-R, a small, four-stroke piston engine that is the product of 15 years' development. It is specially designed to run on gas fuels – compressed natural gas (CNG), liquid petroleum gas (LPG) and now bio-gas.
Co-founder and chief executive Paul Andrews said:
It's the world's first small dedicated gas engine. Bio-gas is a recent innovation, something we've been working on with Innovate UK.
Pulse-R takes conventional engine design and looks at it in a 'lateral' way – and does everything slightly differently. That gives significant benefits in efficiency: low emissions and, critically for the market, it's very cheap to manufacture.
Winning this award was a big surprise to the Oaktec team, as Paul admitted.
It's a good feeling! We've had lots of interest… in how we are going to commercialise it, how we will manufacture it. And a lot of people have been telling us what they think the opportunities are.
View more stories from businesses successful with Innovate UK support
Published 13 November 2015