Injured troops take up gardening therapy
A new gardening project to help provide therapy for Service personnel undergoing rehabilitation at the Defence Medical Rehabilitation Centre at Headley Court has been launched this week. Report by Leigh Hamilton.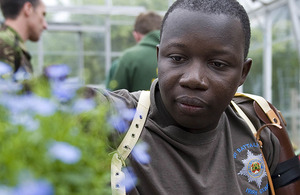 Activities such as cooking and swimming have previously been used at Headley Court to help injured troops with their recovery but this is the first time that horticulture has been encouraged as a form of psychological and physical therapy.
The idea is that the newly-refurbished greenhouse and allotment area will challenge patients with complex polytraumatic injuries and encourage them to overcome the challenges of working at different heights, standing on varying slopes and surfaces, as well as lifting and moving objects.
The gardening tasks also provide cognitive therapy for troops, with evidence suggesting that being in an outdoor environment reduces stress which can lead to improved concentration and encourage people to think through their problems or concerns.
The gardening project is the brainchild of Major Peter Le Feuvre who enlisted the help of the Queen Elizabeth Foundation which provides intensive vocational rehabilitation for unemployed, disabled adults experiencing multiple barriers to work.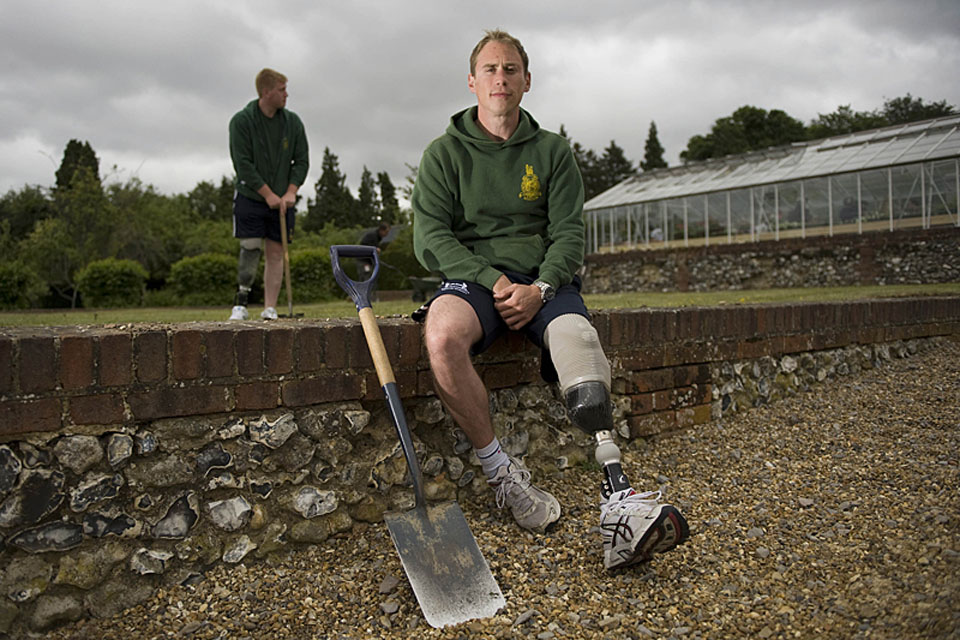 Major Le Feuvre said:
If you capture the right patient, it's a meaningful activity that's fulfilling. Set in these grounds, you can't help but be inspired and our aim was to bring the rehab out from the clinical space and into the grounds.
The rehab here is very exercise- and gym-based, so for a lot of the guys who come through here time and time again, to have the chance to do something different is a change.
This isn't just about the garden, it's about the workshop, it's about the kitchen area. One guy who doesn't want to pot flowers might like to go to the workshop and build a planter to put the flowers in and therefore still gets all the benefits.
We're trying to develop this functional rehab as it's meaningful, it's useful for outside life, it gives them a vocation, and outside the clinical stuff there are a load of social benefits as well.
On 18 February 2009 Marine Arron Moon of the Armoured Support Group Royal Marines was on a patrol in Afghanistan in a vehicle which was struck by an IED. Marine Moon suffered a broken right heel bone, broken tibia and fibula in his lower right leg, dislocated knees, broken left femur, broken hip, dislocated pelvis, broken back, ruptured spleen and a broken collarbone.
He said:
I'm feeling pretty good. I subsequently lost my left leg below the knee, but I'm probably better off without it than I would have been when it was in bits. This place is amazing. They've got me back walking and running again. I can play golf again, I can play sports again, so I'm happy.
As a below-the-knee amputee we can get out in the garden digging and it gets you working outside which makes everybody feel better.
In this garden, there are loads of different things we can do to help different injuries. It helps with your rehab ten-fold because at the end of the day you're out here, you can do stuff, it makes you feel better and it shows that you've got a future should you want to go into this line of work.
It shows us that when we're at home, we can still take care of our own gardens and it makes you feel a bit better about things. It's not just physical, the psychological benefits from it are amazing as I feel that when I go home I can sort my garden out and still do things.
It helps you realise that your life's not ended because you've lost a limb, you've still got a future and you can still do the things that everyone else does on a daily basis.
Private Scott Meenagh from C Company, 2nd Battalion The Parachute Regiment, was on a cross-mountain patrol in Afghanistan on 25 January 2011 when he stepped on a low-metal IED and sustained severe injuries, including the loss of both legs below the knee, wounds to his lower back and internal injuries.
Despite suffering from life-changing injuries, Private Meenagh has an admirable outlook on life:
I've never been so alive in my life," he said. "I feel so positive. A lot of people went through a lot when I was out there and one of my friends was killed trying to save my life, so I need to take advantage of everything. It's amazing. I've never felt so motivated, everything is such a challenge and everything is so exciting.
I think my dad will be proud of me as he's a gardener himself. I've never taken an interest in gardening, but now life's at a lot slower pace for me, so I'll be able to help him and take a new interest in it. My wee garden will be looking good when I eventually get home.
As a double amputee, Private Meenagh welcomes the physical challenge the gardening project offers:
The ramp outside the greenhouse is the most undulating that I've ever walked on. It really is a challenge, but I'm taking it in my stride, literally. Actually standing still is an effort for me as I have to use my core and my hips, so I'm constantly tensed up and always wake up sore. It is hard, but you get used to it and this is an opportunity to do something therapeutic.
Obviously we've all been through traumatic experiences and you do think about it. I think about it every day and it affects me, so actually coming away and having a new interest is helpful.
While being deployed on Op HERRICK 13, Guardsman Lamin Manneh, 1st Battalion Irish Guards, was involved in an IED blast in Afghanistan and lost two legs and one arm on 31 December 2010.
Guardsman Manneh arrived at Headley Court after a spell at the Queen Elizabeth Hospital in Birmingham where he was prepared for prosthetic limbs:
At the beginning it was shocking," he said. "My family was there supporting me, so I was taking it day by day. I'm praying that eventually I'll get stronger and now I'm enjoying myself.
It's a good way to spend some time doing something that you can be part of because everyone's talking about green issues and how can we help if we don't plant it? It's a very good thing to be part of and I'm definitely enjoying it. It's more than satisfying, I'm very happy.
Major Le Feuvre has high hopes for the gardening project and even has aspirations to display the troops' skills at next year's Chelsea Flower Show.
Published 26 May 2011