World news story
Informative event for the British community at ECU-911 in Quito
This was published under the 2010 to 2015 Conservative and Liberal Democrat coalition government
The British Embassy held an informative event for the British community in Quito, jointly with SIS-ECU 911 emergency response service.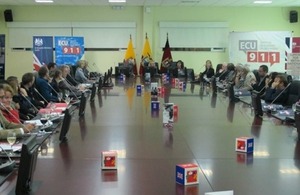 On Wednesday 26th November 2014, the consular team of the British Embassy in Quito organised an informative event and cocktail, "Be Prepared", for the British community in Quito, in collaboration with the Ecuadorean emergency response service, SIS-ECU 911.
The event took place at the ECU 911 facilities in Itchimbia Park, and its aim was to share with the British community information on the Foreign & Commonwealth Office´s consular strategy and other consular services, along with an update on the latest innovative services available from ECU 911.
The event began with a presentation from the British Embassy, detailing their consular assistance policy and the consular strategy for 2013-2016, and updates on how to report emergencies and the importance of staying informed through social networks. Information and guidance on the British Embassy's role in a crisis situation was provided, in which British citizens were encouraged to be prepared and to plan ahead to cope with emergencies. Lastly it outlined useful information for the British community, such as passport renewals and extensions, visa applications for spouses and family, and forthcoming changes to the birth and death registration system, amongst others. Every participant was handed over the latest edition of the "consular services and safe tourism" pocket guide, as well as other useful material such as the National Risk Control Agency (SNGR) emergency family plan guidance and form.
Following a presentation by Ing. Francisco Robayo from ECU-911, which included information on their integrated security system and latest 'ECU 911' smartphone application to report emergencies, the British community were invited to take part in a tour of the ECU 911 facilities.
The event concluded with a cocktail, giving the British community the opportunity to network and ask any further questions directly to consular staff. The British Embassy in Quito was extremely pleased with the turnout from the British community in Quito. The Embassy will continue building its close working relationship with the pioneering emergency response service ECU 911.
Document information
Published: 28 November 2014