Informal mentoring to help offenders with rehabilitation
The National Offender Management Service and Clinks are launching two mentoring pilots for offenders in Merseyside and Nottingham.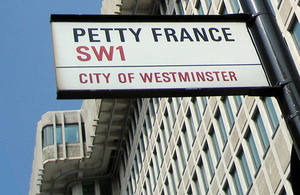 The 12 month pilots, which coincide with Volunteers' Week (1-7 June), aim to build on the valuable offender mentoring work already done by NOMS, supported by volunteers at Sefton Council for Voluntary Services (CVS) and Catch 22 in Nottingham.
This pilot supports voluntary and community organisations in the criminal justice system - an important  part of the Green Paper Breaking the Cycle. Sefton CVS and Catch 22 proposed two very different models of informal mentoring and were selected from over 80 applications received by NOMS.
 
It is expected that 400-600 offenders leaving custody will be mentored over the next year and the planning phase is now well underway.
As Richard Nicholls, Programme Director for Clinks explains: 'Evidence shows the relationship between offenders and the community is the key to help an offender change, so to mobilise community resources to support offenders is crucial.
'People who engage with the criminal justice system are more likely to be supportive of offenders, which is vital to their resettlement.'
Chris Wright, Chief Operating Officer for Catch22 says: 'Mentoring is about respect and trust. Offenders are more likely to stop offending where they are respected for their willingness to change and trust those who are helping them to do so.
'Helping offenders build and restore supportive networks that keep them away from crime and generate new opportunities are invaluable,' he adds.
Meanwhile, Sefton CVS is planning to build on its existing partnerships in Merseyside and Liverpool.
 
'We have a lot of experience in delivering mentoring projects within the local community and we are passionate about the significant contribution mentoring can make to improving the quality of life for individuals,' says Neil Frackelton from Sefton CVS.
Offender mentoring: What the research says
The main elements* in stopping people offending are:
To build positive relationships: Offenders are most influenced to change (and not to change) by those whose advice they respect and whose support they value. Personal and professional relationships are key to change
To respect individuality: Since the process of giving up crime is different for each person, criminal justice responses need to be properly individualised
To recognise the significance of social contexts: Giving up crime requires new networks of support and opportunity in local communities and a new attitude towards the reintegration of ex-offenders
*Taken from 'Changing Lives? Desistance Research and Offender Management', McNeil and Weaver, June 2010
Published 2 June 2011