News story
Industry-led group to help redeploy high skilled defence workers
The Skills and Jobs Retention Group will be chaired by Allan Cook, the current chairman of SEMTA (Sector Skills Council for Science, Engineering…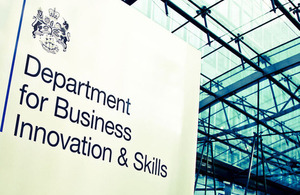 The Skills and Jobs Retention Group will be chaired by Allan Cook, the current chairman of SEMTA (Sector Skills Council for Science, Engineering and Manufacturing Technologies) and the former CEO of the defence system company Cobham.
The group's remit will be to explore how skilled workers can be retained in the advanced manufacturing sector, by working with industry to redeploy affected employees to other sectors such as civil aerospace, automotive, energy and marine.
The SDSR published on Tuesday has set out how we can deliver national security both effectively and efficiently in a tough economic climate.
It included difficult decisions that will have industrial implications but it also reinforced the importance of the relationship with industry. The Ministry of Defence still expects to spend around £60 billion with UK suppliers over the next four years.
The purchase of two aircraft carriers maintains the UK's ability to design and build complex warships, including the next generation of frigates. This will sustain some 20,000 jobs in UK shipbuilding and see investment of around £10Billion over the next 10 years.
Business Secretary Vince Cable said:
"The Government recognises the important contribution that the defence sector makes to the wider economy through high value jobs, intellectual property rights, export revenues and as a key sponsor of apprenticeships and training.
"I want to ensure that wherever possible we retain the talented individuals leaving the defence industry within the UK's advanced manufacturing sector which is why I am today announcing an industry led group to look at how we can help redeploy skilled engineers affected by the SDSR.
"I am delighted that Allan Cook has agreed to chair the group; he has experience of both the defence sector, wider engineering and manufacturing and is a passionate advocate for maximising skills opportunities."
Chairman of Atkins and Chairman of SEMTA Allan Cook said:
"The aerospace and defence industry is a major employer in the UK, providing high value employment and supporting a wide range of skills across science, engineering, production, service, training and finance.
"The UK cannot compete internationally without highly skilled workers developing engineering solutions and building new products so it is vital for future economic growth that we do all that we can to retain these skills within the advanced engineering and manufacturing sectors."
The group will comprise of a small team of senior industry figures with experience in defence and advanced engineering and manufacturing and will be supported by the Department for Business Innovation and Skills.
It will provide a forum for companies across UK manufacturing and engineering to work together to make the most of the skills that may become available for redeployment. This will complement the activities of DWP and Job Centre Plus.
We will also be assembling a strategy team which will consider the technological and intellectual property implications of the SDSR on the UK economy. This will feed into the Defence Industry and Technology Policy work being launched on November 2. Further details will be announced shortly.
Notes to editors
1. **Allan Cook CBE**
Allan Cook was appointed a non-executive director of WS Atkins plc in September 2009, taking up the post of chairman on 1 February 2010. He is a chartered engineer with more than 30 years international experience in the automotive, aerospace and defence industries. He was chief executive of Cobham PLC until the end of December 2009. Prior to this he held senior roles at GEC-Marconi, BAE Systems and Hughes Aircraft. He is a non-executive director of Marshall of Cambridge (Holdings) Limited and a member of the operating executive board of J.F. Lehman & Company. He is also chairman of UK Trade & Investment's Advanced Engineering Sector Advisory Board, chairman of the Sector Skills Council for Science, Engineering and Manufacturing Technologies (SEMTA), past president of the Aerospace and Defence Industries Association of Europe (ASD), past president of the Society of British Aerospace and Defence Companies (SBAC), director of the Industry Forum, director of the Apprentice Ambassador Network and a committee member of the UK Ministerial Advisory Group for Manufacturing. He was awarded a CBE in the Queen's New Year's Honours list in 2008 and is a fellow of the Royal Academy of Engineering.
The BIS online newsroom contains the latest press notices, speeches, as well as video and images for download. See http://www.bis.gov.uk/newsroom for more information.
Notes to Editors
Contact Information
Name BIS Press Office Job Title
Division COI Phone
Fax
Mobile
Email NDS.BIS@coi.gsi.gov.uk
Name Ashley Rogers. Job Title
Division Department for Business, Innovation and Skills Phone 020 7215 5971 Fax
Mobile
Published 21 October 2010