Press release
Industry launches new rail technical strategy
New techniques and technologies to improve the performance and cost-effectiveness of the railway.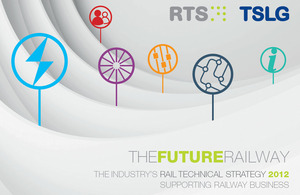 Rail industry leaders have outlined a 30 year vision for the railway through a new edition of the 'Rail technical strategy'.
The Rail technical strategy describes how technology can help the railway increase capacity, improve reliability, cut carbon emissions and reduce costs.
The strategy has been developed by the Technical Strategy Leadership Group – a cross-industry expert body with representatives from across the rail industry – and endorsed by the Rail Delivery Group.
Minister of State for Transport Simon Burns MP welcomed the strategy saying:
I welcome the industry picking up the baton to develop this Rail technical strategy. Technology has a vital role to play in improving the railway's performance, cutting its costs along with carbon emissions and delivering a better travelling experience for passengers. By setting in place a 30 year vision, the railway is demonstrating that it has a bright and exciting future, and the potential to support our economy and society for the long term.
Rail media enquiries
Media enquiries 020 7944 3021
Out of hours media enquiries 020 7944 4292
Switchboard 0300 330 3000
Published 14 December 2012