News story
Industrial strategy: early successes and future priorities
This update on the impact of the industrial strategy comes 1 year on from the first of the sector strategies published in 2013.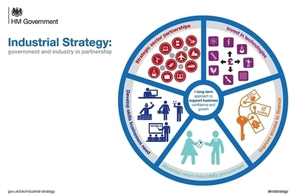 The Industrial strategy: early successes and future priorities progress report sets out in detail the major achievements across the 5 themes and explains the priorities for the year to come and beyond.
Government is working in partnership with industry to set out and deliver long-term plans to secure jobs and growth so we have given business leaders the opportunity to set out their views in the report and in these videos.
Industrial strategy progress report - Creative Industries
Industrial strategy progress report - Automotive
Seven sector videos are available on our Youtube channel.
Secretary of State for Business, Innovation and Skills said:
There are countless businesses of all sizes and sectors who have invested their time, energy and resources in making this new approach to industrial strategy get off to a solid start. This is the best endorsement we could get for what is a genuinely new way of working and will be the key to the continuing success of industrial strategy. There is much more to do over the coming years but we have an excellent foundation on which to build.
Published 23 April 2014