World news story
Indonesia: Magna Carta Fund for Human Rights and Democracy
The bidding round for the 2016-17 Magna Carta Fund for Human Rights and Democracy is now open.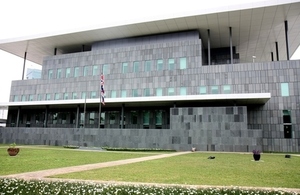 Magna Carta Fund for Human Rights and Democracy
The Magna Carta Fund for Human Rights and Democracy (MCFHRD) is the FCO's dedicated strategic programme fund supporting our global human rights and democracy work. Through targeted projects, it aims to further British interests overseas by tackling the root causes of human rights violations, strengthening institutions and governance, supporting the promotion and protection of human rights, democracy and the rule of law.
Launch of the 2016-17 Bidding Round
We are pleased to announce the call for bids for projects for financial year 2016-17. The following information provides an overview for prospective implementers. Key documents which we reference below can be found at the end of this page.
Before bidding you should also familiarise yourself with:
Human Rights Themes
For 2016, Ministers have agreed a new approach to the FCO's human rights and democracy work. The FCO has therefore reconfigured its human rights work around three interconnected themes that provide the basis of our funding strategy:
Democratic values and the rule of law - uphold universal rights, democracy and the rule of law as key building blocks for more secure and prosperous societies.

The rules-based international order - support an effective rules-based international order that stands up for universal rights.

Human rights for a stable world - promote a more stable world by upholding universal rights in tackling conflict and extremism.

For more detail, see the 2016-17 MCFHRD Strategy.
In Indonesia, we are particularly keen to support bids/projects on:
Democratic values and the rule of law
Reforming criminal justice systems, tackling impunity, and improving citizens' access to justice, including capacity building and reform of police, the judicial system, and prisons; and measures to secure abolition of the death penalty, prevent torture, and eradicate extrajudicial killings by law enforcement actors.
The rules-based international order
Implementing the outcomes of UN Guiding Principles on Business and Human Rights.
Human rights for a stable world
Encouraging countries to embed human rights within their security, justice reforms and institutions, including reducing the risk of the use of torture or the death penalty, and extrajudicial killings.

Increasing states' political will and institutional capacity to respect human rights, including freedom of religion or belief and tackling hate speech.
The British Embassy Jakarta encourages implementer to incorporate gender perspectives into the projects. We also welcome projects implemented in the Eastern part of Indonesia.
How to apply
Read the strategy carefully and ensure that any proposals you are considering are a good fit.

Use the template provided below to submit a Project Concept Note by 11 February 2016 (for single country project) of no more than three pages in length. Send your single-country proposals to novryan.pahlawan@fco.gov.uk.

For multi-country proposals, send to HRD.Programme@fco.gov.uk by 5 February.

It is also a good idea to discuss your project proposal in advance with the relevant project officer at the Embassy.

Successful implementers will be invited to submit a full proposal by 04 March. We will advise you on which proposal form to complete depending on the value of the project. The deadline for submission of the full project proposals is 4 March.

It is our aim to inform all applicants of the final outcome of their bid by May.
Selection criteria
value for money, only concept note with reasonable/ acceptable budgets will be considered.

alignment with MCFHRD Strategy and FCO's Foreign Policy Priorities.

evidence of local demand or need.

project viability, including capacity of implementing organisation(s).

project design, including clear, achievable impact.

risk and stakeholder management.

sustainability.
Full proposal documents
See the guidance documents above for more information on the bidding process.
You can see the full proposal forms and activity based budget template below:
Contact
Please contact novryan.pahlawan@fco.gov.uk or alison.cross@fco.gov.uk with any questions or queries regarding applications to the British Embassy Jakarta.
Document information
Published: 27 January 2016