World news story
Indigenous peoples of Guatemala and Belize enhance relations in the Adjacency Zone
Q'eqchi' and Mopan indigenous peoples living in southern areas of Petén and Belize have established a Council of Mayan Communities aimed at improving the management of natural resources and addressing their most pressing social and economic needs in the Adjacency Zone.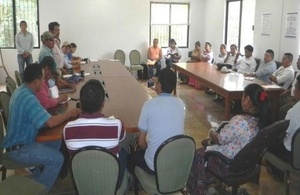 The Council also seeks to create strong relationships between the communities living in both countries, and presents common proposals to the authorities with the aim of addressing the challenges the Adjacency Zone faces. The agreement to create the Council was reached on 18 March in the margins of the Third Meeting of Indigenous Peoples as part of a project sponsored by the British Embassy in Guatemala and other international donors.
Participants from Guatemala included the Linguistic Community of Mopan, Association Aj Ral Chooch, the Coordinator of Indigenous Agricultural Associations, the House of Hope, and the recently incorporated Indigenous Association Aprosarstun, a Q'eqchi' Mayan organization that promotes peaceful and sustainable development in the Sarstoon River Protected Area.
From Belize, participants included the Association of Community Mayors of Toledo (which represents 39 communities) and the Mayan Leader Alliance. This process is being accompanied by Association Balam, the Inter Sectoral Table of Land and Environment, Friends of Conservation and Development (FCD), the Commonwealth of Counties of the South of Peten, and local NGO TIDE.
The Government of the United Kingdom has sponsored projects to help communities in southern Petén implement the agreements reached by the governments of Guatemala and Belize. This will improve mutual cooperation in economic, social and educational issues within the context of the roadmap and help towards achieving a lasting resolution to the territorial dispute.
Published 4 April 2016