World news story
Indigenous Australians win scholarships to top UK universities
Indigenous Australians awarded scholarships to study at top UK universities, thanks to funding from the Chevening programme.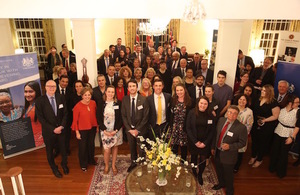 British High Commissioner to Australia, Her Excellency Menna Rawlings CMG, presented the 2016 Charlie Perkins and the Roberta Sykes Scholarships to recipients at a ceremony in Canberra last week.
These scholarships for postgraduate study at top UK universities support Indigenous Australians who have the potential to become leaders in their field of study and in their communities. Scholarships are awarded on the basis of academic merit.
This year's Charlie Perkins Scholarship recipients are: University of Sydney graduate James Beaufils and University of Queensland graduate Malcolm Connolly, who are both heading to the University of Oxford, and University of Victoria graduate Olivia Slater, who will study at the University of Cambridge.
The Roberta Sykes Indigenous Education Foundation Scholarship recipients are: Australian National University graduate Sarah Bourke, who is also going to Oxford, University of New South Wales graduate Samara Hand who will study at the University of London, and University of Canberra graduate Michael McCagh who will attend the London School of Economics.
Jointly supported by the British and Australian Governments, the scholarships are each valued at over $75,000 per annum for up to three years.
The British Government contributes to these scholarships through the Chevening programme, the UK Government's global scholarship programme aimed at identifying future leaders and helping them to develop, professionally and academically, experience UK culture, and build lasting positive relationships with the UK.
Menna Rawlings said: "I'm delighted that the British Government is involved in these initiatives to support indigenous students through our prestigious Chevening scholarships scheme. Encouraging and enabling diverse talent is at the heart of successful communities and nations, and I am sure each of the recipients will make an extraordinary contribution to Australia's future."
The Charlie Perkins Scholarship Trust and the Roberta Sykes Indigenous Education Foundation are each named in honour of visionary leaders who believed in the power of education.
The Chair of the Charlie Perkins Scholarship Trust, Rachel Perkins, said the Trust was extremely honoured to be a part of the celebration of these students, their families and their communities. "This is a wonderful realisation of my father's vision that Indigenous people should strive for excellence in all pursuits. We really feel that the legacy of Dad's vision that Indigenous people can surmount any odds, that they can achieve greatness in their life, flows through to these new recipients of the scholarships to attend Cambridge and Oxford," said Ms Perkins.
The Chair of the Roberta Sykes Indigenous Education Foundation, Peter Waters, emphasised the importance of the programme in showing young Indigenous Australians that they are capable of achieving at the highest levels. "The opportunity to study overseas at some of the world's leading universities is a powerful message to Indigenous youth that Indigenous youth can be – and should be – amongst the "best and brightest" of this country. As a nation, we will be richer for that," said Mr Waters.
Published 7 September 2016