World news story
Indian and UK scientists team up to tackle monsoon
The summer monsoon provides 80 per cent of annual rainfall to around a billion people in India.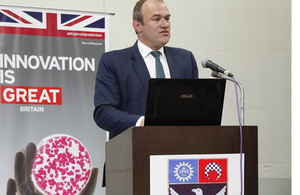 The UK's Secretary of State for Energy and Climate Change Edward Davey has today announced new research projects that will see Indian and UK scientists come together to improve forecasts of the South Asian monsoon. Mr Davey is visiting India with the British Deputy Prime Minister, Nick Clegg.
The Drivers of Variability in the South Asian Monsoon research programme will receive combined funding for around £8 million from the UK's Natural Environment Research Council (NERC), the Indian Ministry of Earth Sciences and the UK Met Office. This builds on a flourishing research partnership between the UK and India, which has already seen over £150 million invested in research between the two nations.
The summer monsoon provides 80 per cent of annual rainfall to around a billion people in India. Forecasting the precise timing and location of the rains is vital to the region's economy, which is dominated by farming, and for managing its increasingly pressured water resources. Last year, the monsoon advanced particularly rapidly over northern India, causing devastating damage while, in 2009, prolonged breaks led to a severe shortage of rainfall and poor harvests.
The Drivers of Variability programme will examine the monsoon's physical processes through a large-scale observational campaign. It will use the UK's BAe-146 atmospheric research aircraft and ocean gliders, and Indian research ships to gather fresh data on the region in more detail than ever before. This programme will improve understanding of the physical processes of the South Asian monsoon and their improved representation in weather and climate models.
The research will begin in 2015 and is expected to last for between three and five years. Each project will be led by one British and one Indian researcher. The British team is headed by Professor Hugh Coe (University of Manchester), Dr Andy Turner (University of Reading) and Dr Adrian Matthews (University of East Anglia). They will be joined by Indian colleagues Dr S Suresh Babu (Indian Space Research Organisation), Prof G S Bhat (Indian Institute of Science) and P N Vinayachandran (Indian Institute of Science)
Speaking at St. Xavier's College, Mumbai as part of a three-day visit to India, Secretary of State Edward Davey said:
Our countries share a strong and growing relationship at the forefront of science and technology, one that aims to improve lives of people. The monsoon is a hugely important part of peoples' livelihoods here in India. It is also a very important part of the global climate system. This major new UK - India research initiative on the monsoon is a great example of how UK and India can work together to tackle global challenges.
Dr Shailesh Nayak, Secretary of the Ministry of Earth Sciences, said:
I am happy to note that the Indian and UK scientists are collaborating on observational campaigns including the NERC aircraft and modelling efforts to study the complex physical processes of the south Asian monsoon. I am sure this collaboration will facilitate improving the representation of monsoon physical processes in weather and climate models.
Ned Garnett, interim head of research at the UK's Natural Environment Research Council, said:
We are delighted to be teaming up again with our colleagues at the Ministry of Earth Sciences in India to tackle this important problem.

Being able to deliver better predictions of the monsoon will be of huge benefit to the people of South Asia and the regional economy, which is of course an important part of the global economy. This programme will bring together complementary skills of UK and Indian scientists in joint projects to address these global issues.
Further Information
Natural Environment Research Council
NERC is the UK's main agency for funding and managing research, training and knowledge exchange in the environmental sciences. Our work covers the full range of atmospheric, Earth, biological, terrestrial and aquatic science, from the deep oceans to the upper atmosphere and from the poles to the equator. NERC co-ordinates some of the world's most exciting research projects, tackling major issues such as climate change, environmental influences on human health, the genetic make-up of life on Earth, and much more. NERC is a non-departmental public body and receives around £370m of annual funding from the Department for Business, Innovation & Skills (BIS).
Earth System Science Organization (ESSO), Ministry of Earth Sciences
ESSO-MoES is mandated to provide the nation with best possible services in forecasting the monsoons and other weather/climate parameters, ocean state, earthquakes, tsunamis and other phenomena related to earth systems through well integrated programmes. The Ministry also deals with science and technology for exploration and exploitation of ocean resources (living and non-living), and play nodal role for Antarctic/Arctic and Southern Ocean research. The Ministry's mandate is to look after Atmospheric Sciences, Ocean Science & Technology and Seismology in an integrated manner.
Research Councils UK (RCUK) India
RCUK India, launched in 2008, brings together the best researchers in the UK and India through high-quality, high-impact research partnerships. RCUK India, based at the British High Commission in New Delhi, has facilitated co-funded initiatives between the UK, India and third parties that have grown close to £150 million. The research collaborations are often closely linked with UK and Indian industry partners, with more than 90 partners involved in the research. RCUK India is actively involved in co-funded research activities with seven major Indian research funders on a wide array of research themes addressing global challenges such as energy, climate change, social sciences, healthcare and life sciences.
Stuart Adam, Director,
Press and Communications
British High Commission,
Chanakyapuri, New Delhi 110021
Tel: 44192100; Fax: 24192411

Mail to: Chandeep.Kaur@fco.gov.uk
Follow us on Twitter, Facebook, Flickr, YouTube, LinkedIn, Storify, Eventbrite, Blogs, Foursqare
Published 26 August 2014