India passes one year without polio
The country celebrates a whole year free from the crippling and potentially fatal disease that targets young children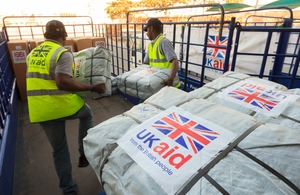 Today India celebrates a whole year free of any new cases of polio - the crippling and potentially fatal disease that targets young children.
The milestone follows a step up of India's own vaccination programme in recent years backed by UK aid through the Global Polio Eradication Initiative.
Video: BBC News - Report on India's polio vaccination drive
The announcement is a major step towards global efforts to wipe out polio forever - defeating the disease in one of the toughest countries in the world.
Two years ago, India recorded more polio cases than any other country. However, it has overcome huge challenges to stop transmission, including its large population and hard-to-reach communities.
Reported cases of polio fell from 741 in 2009 to zero this year. The success is due to intense and continued immunisation drives - particularly focussed in high-risk areas - as well as ongoing monitoring and surveillance of cases.
National Immunisation Days - which occur twice a year - helped protect over 170 million children under five years old across the country with oral vaccines. To reach people on the move, mobile vaccination teams immunised children at railway stations, inside running trains, at bus stands and market places.
The breakthrough is a result of India's decision to expand its own vaccination programme, including polio immunisations. This commitment from the Government of India also means more UK support can be directed elsewhere, helping to counter outbreaks in other countries across Africa and Asia.
Experts at the World Health Organization say the remarkable progress demonstrates that polio eradication can be achieved anywhere in the world.
International Development Secretary Andrew Mitchell said:
Britain is at the forefront of the fight against polio and India's success is proof that aid spent on vaccinations prevents disability and saves lives.

Through Britain's increased support to the Global Polio Eradication Initiative last year, an additional 45 million children worldwide are being vaccinated against this crippling disease.
In the last 20 years, polio cases have been reduced by 99% - largely thanks to the work of the Global Polio Eradication Initiative. The disease is now close to being only the second in history - after smallpox - to be wiped out.
However, polio remains active in more than a dozen countries, crippling and killing many children. Last year the Prime Minister announced a doubling of the UK's support to the Global Polio Eradication Initiative, to help reach over 90 million children in 2011-2012 and continue the progress made so far.
Published 13 January 2012