India: Greening announces new development relationship
International Development Secretary Justine Greening announces no new British financial aid to India with immediate effect.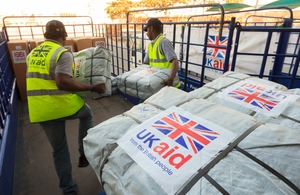 No new British financial aid grants will be made to India with immediate effect, Development Secretary Justine Greening announced today.
The UK's programme in India will be restructured and traditional financial grant aid ended responsibly, so projects already underway will be completed by the end of 2015 as planned. But Justine Greening will not sign off any new programmes, and financial aid programmes to the country will end completely in 2015.
From now, any new programmes will take the form of technical assistance, sharing UK expertise in trade, investment, skills and health. Additionally, investments in private sector projects expect to generate a return. That work will see a 'hub' of specialists in India working alongside the Foreign Office, UK Trade and Investment and other government departments to share advice and skills with the Government of India. The shift reflects India's successful transition to become a key part of the global economy.
Justine Greening said:
After reviewing the programme and holding discussions with the Government of India this week, we agreed that now is the time to move to a relationship focussing on skills-sharing rather than aid.

Having visited India I have seen first hand the tremendous progress being made. India is successfully developing and our own bilateral relationship has to keep up with 21st century India. It's time to recognise India's changing place in the world.

It is of course critical that we fulfil all the commitments we have already made and that we continue with those short-term projects already underway which are an important part of the UK and Government of India's development programme.
Published 9 November 2012