World news story
India and UK working together to improve gender equality in the workplace
The 'Gender Equality in the Workplace' programme aims to improve garment workers' awareness of their rights, and the procedures for reporting and resolving grievances.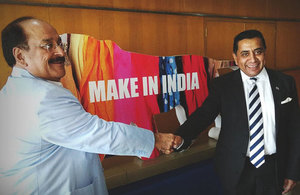 Lord Tariq Ahmad of Wimbledon, UK Minister of State for Foreign and Commonwealth Affairs, today launched the second phase of the 'Gender Equality in the Workplace' programme at the offices of India's Apparel Export Promotion Council (AEPC) in Gurugram.
Funded by the UK's Foreign and Commonwealth Office, and in partnership with leading British brands and Indian manufacturers, the programme will benefit 10,000 women in 10 factories across India.
Speaking at of the launch, Lord Ahmad said:
I am delighted to launch this new programme, which reaffirms a core principle of business - the respect and dignity of workers - many of whom operate in supply chains serving major international companies. With the UK's international leadership in the promotion of human rights and compliant business practices, and India's increasing position as a manufacturing powerhouse, we are natural partners.
The first phase of the project took place in Bengaluru in 2016, benefiting 2000 female workers in two factories. The project made use of focus-group discussions, theatre workshops, art installations and interactive sessions with women workers, male supervisors and management teams to train workers and management on how to report and resolve grievances. The success of this first programme encouraged the Foreign and Commonwealth Office and its partners to increase the scope five-fold in 2017, bringing on new partners.
Ashok G Rajani, Chairman, AEPC said:
The minister's visit is evidence of the shared values that UK and India have. As custodians of the sector that provides over $3 billion in wages to the women's workforce alone, AEPC has been actively working to spread awareness and enable workplaces, with the establishment of the Internal Complaints Committee in Apparel manufacturing units, among many other initiatives. We have been stressing on the importance of not only employment, but also education and training through our 175 training centres.
As the single largest G20 investor and largest Foreign direct investment (FDI) job creator in India, the UK recognises the importance of ethical and equitable trade and employment. This official launch is being facilitated by AEPC and key stakeholders from the garment sector fraternity.
Further information
Media
For media queries, please contact:
Stuart Adam, Head,
Press and Communications
British High Commission, Chanakyapuri, New Delhi 110021
Tel: 24192100; Fax: 24192400

Mail to: Asad Mirza
Follow us on Twitter, Facebook, Flickr, Storify, Eventbrite, Blogs, Youtube, Instagram, Snapchat @UKinIndia, Periscope @UKinIndia
Published 10 August 2017