News story
Independent report recognises Ploughshare's success stories
A report by economics consultancy, SQW, is published on Dstl's technology transfer company, Ploughshare Innovations Limited.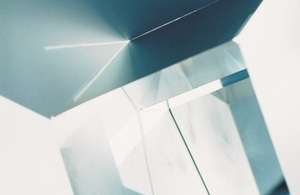 Ploughshare Innovations Limited's activities have led to the creation of hundreds of jobs and multi-million pounds worth of exports.
These are the findings of a report by SQW, an independent economics consultancy, which was commissioned by the Defence Science and Technology Laboratory (Dstl) to look at the non-financial benefits of the technology transfer company, which manages the commercial licensing of intellectual property (IP) developed by Dstl.
The three main aims of the report were to:
Assess the wider benefits resulting from the application of novel technologies that make a difference in both defence and civilian markets.
Estimate the economic contribution of commercialisation, through the establishment of spin-outs and licensing activities.
Assess the benefits to researchers and scientists at Dstl resulting from engagement with industry through spin-outs and licensing activities.
SQW identified significant economic impact as a result of Ploughshare's activities, including:
Creation of a maximum of 550 jobs from 2005 to 2013/14, with forecasts indicating over 500 jobs existing in 2017/18
£44 million in exports to 2013/14, plus a further £179 million forecast to 2017/18
Over £65 million Gross Value Added (GVA) to 2013/14, plus a further £126 million forecast to 2017/18
Spin-outs attracted £130 million investment (public/private sector) and licensees have invested £30 million into research and development.
The report stated that Ploughshare's role had also opened up new technologies to the Ministry of Defence and emergency services. This included the cyber defence capability assessment tool (CDCAT®) and the BBI bio-hazard detection device.
James Kirby, Chief Executive Officer of Ploughshare Innovations commented:
Commercialisation of Dstl's IP can benefit humanity, create UK jobs and benefit our defence and security stakeholders, as well as enabling investment into future research. The report demonstrates the significant impact Ploughshare is making in all these areas.
Published 28 January 2015