News story
Independent report finds scope for millions to be saved in fire service
Sir Ken Knight's independent review of the fire and rescue services in England highlights the scope to find millions in savings.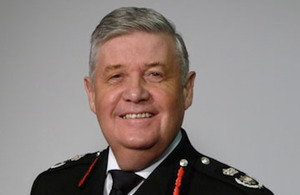 An independent report by Sir Ken Knight published today (17 May 2013) highlights the scope for the fire and rescue services to find millions in savings whilst safeguarding emergency operations and protecting public safety.
In the last decade there has been a 40% reduction in call outs and incidents, and accidental deaths from fires in the home have reached an all time low yet expenditure and fire-fighter numbers have remained broadly the same.
Sir Ken found that services continue to spend according to the budget they are given rather than to the risks they have to manage. Huge variations exist between how the 46 different fire authorities operate, with the cost per head of providing a service almost double in some areas to that of others. This does not seem to be related to whether they are large or small, rural or urban, deprived or affluent. The report states that if those authorities spending above the average found ways to reduce their spending to the national average, then the money saved or reinvested could amount to nearly £200 million per year.
The report identified that the 46 fire and rescue authorities across England each had their own management structures, senior leaders and operational differences. This often leads to widespread duplication of the design, commissioning and evaluation of fire-specific products and demonstrates the potential for much closer co-operation and reconfiguration of services.
In conducting the review, Sir Ken also found that fire and rescue authorities had high levels of capital reserves. Between 2008 to 2012 total reserves held by stand-alone fire and rescue authorities increased from just over £200 million to more than £400 million. This highlights the potential for investing in spend-to-save type projects.
In December the Fire Minister asked Sir Ken Knight - with over 4 decades of experience as a firefighter, including as a fire chief of 3 fire services, and a former London Fire Commissioner - to carry out an independent review into the ways in which fire and rescue authorities may deliver further efficiencies and operational improvements without reducing the quality of front-line services to the public.
Sir Ken Knight said:
As a firefighter for over 40 years I know the fire and rescue service in and out. I know firefighters care deeply about public safety and do the best possible job. I've seen their capacity to adapt, even in the most trying of circumstances, but my report highlights that there is much more that can be done by the service leaders to make the service as effective and efficient as possible.

My starting point was to maintain the quality of the service and to protect the safety of the public and firefighters. As I carried out this review I spoke with many services and found that there is wide spread variation in the running costs and management decisions. This presents a real opportunity to get to grips with what is happening and to save public money.

Government and the 46 fire and rescue authorities should use it to decide how to transform the service to reflect the modern and safer world we live in today.
Further information
Terms of Reference
To review the ways in which fire and rescue authorities may deliver further efficiencies and operational improvements without reducing the quality of front-line services to the public. The review will examine options for savings both within and beyond the current Spending Review period, including through:
firefighter training
flexible staffing and crewing arrangements
the use of Retained Firefighters
procurement
shared services
collaboration with emergency services and other organisations on service delivery and estates
sickness management
sharing of senior staff
locally led mergers and operational collaborations
new fire-fighting technology
preventative approaches
working with local businesses
In conducting this review Sir Ken:
talked to key organisations in the fire sector, including the Local Government Association, the Chief Fire Officers' Association, the Fire Brigades Union, the Fire Sector Federation, individual fire and rescue authorities and others who Sir Ken deemed relevant
undertook 15 visits to a range of fire and rescue authorities, including those covering urban and rural areas, and those constituted as Metropolitan, county and combined authorities
utilised analytical support from government;
The review took into account the findings of previous reviews and reports and their recommendations, including the 2002 Independent Review of the Fire Service (the Bain Report); the Audit Commission's 2008 Community Safety National Report, Rising to the Challenge; the 2010 Fire Futures review, and the 2011 to 2012 Independent Review of Police Officer and Staff Remuneration and Conditions (the Winsor Reports).
Biography - Sir Ken Knight
Sir Ken commenced his fire service career in Surrey Fire Brigade as a firefighter in 1966 and subsequently, served in a number of UK fire brigades. At a principal officer level, he served as Assistant Chief Officer in London, Chief Fire Officer of Devon and the Chief Fire Officer of Dorset and West Midlands Fire Services before returning to London in 2003 as London's Fire Commissioner until his current appointment.
Until January this year, Sir Ken was the government's Chief Fire and Rescue Adviser for England (since 2007), advising government on fire policy matters and, providing advice during any major and catastrophic emergencies.
As well as providing assurance to government regarding the fire safety arrangements and operational response by fire and rescue services for the 2012 Olympics he also produced reports on the widespread flooding in 2007 and the Camberwell Fire in 2009 in which 6 people died.
He has also completed a review of the fire and rescue services in the Republic of Ireland, Bermuda and Gibraltar and undertook a review of the national fire safety and civil defence arrangements in the Kurdish region of Iraq at the request of the Kurdish Regional Government.
Sir Ken is a Companion of the Chartered Management Institute and a Fellow of the Institution of Fire Engineers. He is also a founder Trustee of the UK Firefighters Memorial Trust.
Her Majesty the Queen awarded Sir Ken the Queens' Fire Service Medal in 1991 and the CBE in 2001. He was appointed as Her Majesty's Deputy representative Lieutenant for Richmond upon Thames in 2007. Sir Ken was knighted in the Queen's Birthday Honours in 2006 in recognition of his outstanding contribution to the Fire and Rescue Service.
Published 17 May 2013