Independent Aid Commission names its Board of Commissioners
The Independent Commission for Aid Impact (ICAI) announces Mark Foster, John Githongo and Diana Good as new Commissioners to their Board.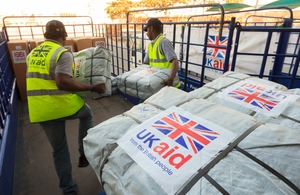 The Independent Commission for Aid Impact (ICAI) announced three new Commissioners, who will bring a fresh perspective to the development debate.
John Githongo, Mark Foster and Diana Good are acknowledged leaders in their fields and together they contribute a wealth of international experience in the private sector, in combating corruption and in development.
John Githongo is well known for his pioneering anti-corruption work in Kenya and across Africa. Formerly a senior member of the Kenyan Government, he is currently Chief Executive Officer of the Inuka Kenya Trust, and a respected editorialist and advocate for transparency and good governance.
Mark Foster is currently Group Chief Executive of Global Markets and Management Consulting at Accenture. He is also Chair of the Global Health Advisory Board of the World Economic Forum and Vice-Chair of the International Business Leaders Forum, which supports business development in the developing world.
Diana Good is Chair of the Mary Ward Settlement, a founder trustee of the Access to Justice Foundation and a part-time judge. She was a senior partner of Linklaters specialising in investigations into corporate fraud and corruption. She has also worked on governance projects for Camfed which assists girls' education in Africa.
International Development Secretary, Andrew Mitchell said:
"It is crucial that we have credible, energetic, capable people, who can shine a light on the UK's aid programmes, which is why I am delighted at the appointment of this board".
They join Chief Commissioner, Graham Ward, who was appointed on the 29 October 2010.
The Independent Commission for Aid Impact (ICAI) is the independent body responsible for the scrutiny of UK aid, focusing on delivery of value for money for the UK taxpayer, maximising the impact for recipients and ensuring effectiveness of the UK aid budget. 
ICAI is currently running a consultation calling for members of the public to have their say on which areas of UK overseas aid they would like to see looked at.
Published 3 February 2011