News story
Independence means independence says Scottish Secretary
'Credible' answers needed on currency in event of independence.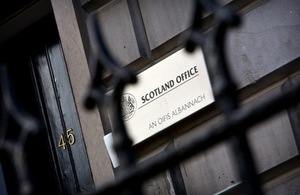 There is no reason why the Bank of England or the Treasury would change their stance on a currency union after a 'yes' vote, Scottish Secretary Alistair Carmichael said today.
Speaking to the Institute of Directors in Aberdeen today, Mr Carmichael said the Scottish Government had no plan on currency and that business needs to press them for credible answers.
Mr Carmichael said:
The Scottish Government are their own worst enemies when it comes to making the case for independence. It is simply not credible to keep insisting that we can break up a 300 year union and continue seamlessly as though nothing has happened. It will be a difficult seven months ahead if they are going to claim that everyone else is wrong or bluffing. Independence means independence. You cannot pretend everything will stay the same.

The Treasury and Bank of England have both made valuable contributions to the currency debate in the last couple of weeks. They have provided expert analysis and clarity. There is no good reason to believe they are going to change their views on a currency union after a yes vote. The Permanent Secretary of the Treasury and the Governor of the Bank of England should both be listened to very carefully.

In stark contrast, the Scottish Government has offered nothing new to the currency debate. It is abundantly clear that it has no plan on currency. This is a real worry for Scottish businesses and the wider public.

I am heartened that more Scottish businesses are speaking up and asking questions of those who would have us leave the UK. This needs to continue and I am sure it will. The UK works well for Scotland and the rest of the UK. People need to know that independence comes with costs and risks.
Published 18 February 2014