World news story
Increase in UK aid to Syria and the region
The UK will invest at least an extra £1.2bn ($1.80bn) in international aid to support Syria and the region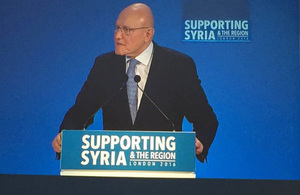 The pledge was made on the day high-level representatives from 70 countries and international organisations gathered in London for the Supporting Syria and the Region Conference to debate support for the world's biggest humanitarian crisis.
The UK has already pledged £1.12bn($1.68) in the region, making it the second biggest bi-lateral donor in the world. Today's announcement will see an extra £1.2bn-plus being spent between 2016 and 2020, taking the UK's total investment to more than £2.3bn ($3.45).
British Ambassador Designate Hugo Shorter welcomed the announcement, saying:
Until refugees are able to safely return to their home country, we need to move from providing immediate humanitarian assistance into long-term partnership between Lebanon and donor countries. We must improve economic and education opportunities for both refugees and struggling host communities. We hope that today's Supporting Syria and the Region Conference and the UK's announcement of additional generous funds to the region, including Lebanon, will have a transformational effect by building stability, creating jobs and ensuring that no children – whether Syrian refugee or Lebanese – goes without a quality education. It's good for Lebanon and the future of Syria.
In Lebanon, since 2011 the UK has committed over £300 million (over $450m) of support for refugees and host communities, in addition to our work through the EU and UN. Lebanon is hosting the largest number of refugees in the region as a percentage of its population, a burden of 1.5m refugees in a population of 4m. Its people and government have shown tremendous generosity towards refugees, which has undoubtedly saved many lives and allowed people to stay close to home.
The UK is co-hosting a conference, "Supporting Syria and the region 2016," with Germany, Kuwait, Norway and the United Nations in London today. The conference builds on previous conferences hosted by Kuwait and takes an ambitious new approach to provide longer term support for refugees, through concrete action on livelihoods and jobs, and improved access to education – giving refugees the skills they need for the future and the best chance of a successful return home. Today donors will provide major resources to back a multiyear plan that will benefit Syrians - and equally importantly - Lebanese host communities.
The conference brings together global leaders, NGOs, the private sector and civil society from the region to address some of the most pressing concerns raised by the crisis. Lebanon is represented through a high-level delegation headed by Prime Minister Tammam Salam who will deliver an address. NGOs and private sector representatives are also present for special Focus Events to explore opportunities for partnership. Representatives from Amel Association, Caritas, Zerock and others are amongst those attending. The UK is proud of its long-life partnership with Lebanon and will continue to stand shoulder to shoulder for the good of both countries.
Published 4 February 2016