World news story
Inauguration of the Provincial police Office of Bas-Congo in DRC
UK Ambassador to the DRC attended the inauguration of the Provincial police Headquarters of Bas-Congo, built with UK aid's support.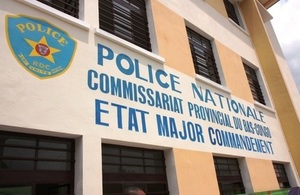 On 22 January 2014, Diane Corner, UK Ambassador to the Democratic Republic of Congo, attended the inauguration of the Provincial police Headquarters of Bas-Congo, built with UK aid's support.
Ambassador Corner said:
To me this building symbolizes the new face of the Congolese National Police (PNC). It marks a turning point for the PNC in Bas-Congo which will now be better equipped to ensure the safety of the people living in this province. It also reflects the spirit behind our partnership, which is based on constructive and timely support, whose torch will soon be passed to our Congolese partner, thereby ensuring the sustainability of the work we've achieved together so far.
The new buildings were officially opened by the Governor of Bas-Congo, Jacques Mbadu, in the presence of the PNC Inspector General, General Charles Bisengimana, and the provincial authorities.
In his speech, the Governor stressed:
The Bas-Congo province is proud to have been chosen by UK aid as one of the pilot provinces for this programme. We have welcomed DFID here since 2010. We've seen number of positive developments for example : the training and deployment of community policing elements, who were trained at Mvula Matadi; the building and completing of all [police] facilities in the city of Matadi, including among others this important two-storey building […] we are inaugurating today.
The Provincial police Headquarters plays a strategic role in coordinating PNC work throughout the province and is home to the "Command, Communication and Coordination Centre" (C3C), a specific part of the community policing policy. This structure will allow the PNC to better meet the population's security needs, including by setting up a toll-free number due to be operational by end April in Kinshasa and that will subsequently be rolled out to the pilot provinces of Bas-Congo, Kasaï Occidental and South Kivu.
The construction of the new Provincial police Headquarters was funded by the British programme Security Sector Accountability and Police Reform. Since 2009, it is working with the Congolese authorities, with the aim of making the PNC a police at the service of the population.
See the picture album of the event on Flickr.
Published 29 January 2014