World news story
In war and peace: Honouring the contribution of the Commonwealth
From:

Part of:

Published:

5 September 2014
This was published under the 2010 to 2015 Conservative and Liberal Democrat coalition government
Hugo Swire MP, the UK Minister for the Commonwealth, says the shared wartime sacrifice of Commonwealth nations must not be forgotten.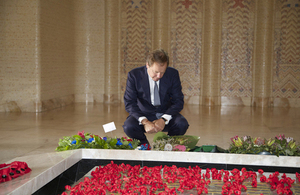 The recent Commonwealth Games in Glasgow reminded us of deep friendships that cut across cultures, generations and geographical logic. The day after the spectacular closing ceremony, it was medals, heroes and personal sacrifices of a very different kind that took centre stage at the memorial service at Glasgow Cathedral honouring the enormous Commonwealth contribution in the First World War.
As the United Kingdom's Minister for the Commonwealth, I was humbled to join the congregation, along with His Royal Highness the Prince of Wales, Prime Minister David Cameron and representatives from across the Commonwealth. It was an occasion to mourn those we lost, but also to remember their incredible bravery in a war that decimated populations worldwide.
A century has passed since three million men and women volunteered from all corners of the world to fight for a King and country many had never seen. They gave up their jobs, the comforts of home and often their lives to face hardship and unspeakable horrors – from the flies and harsh conditions of Gallipoli to the rats and mud of the Western Front.
From Australia's population of fewer than five million, over 416,000 enlisted, over 60,000 were killed and over 150,000 were wounded or taken prisoner. My own former regiment, the Grenadier Guards, and the many brave men from my constituency of East Devon who joined the Devonshire Regiment, fought and died alongside thousands of Australian and Commonwealth troops during the Battle of the Somme in 1916.
Sadly, casualties across the Commonwealth were just as catastrophic as they were for Britain and Australia. Around the world, the Commonwealth War Graves Commission commemorates the names of over 1.1 million Commonwealth servicemen and women who lost their lives in the First World War. And so many of those that did survive the conflict returned with injuries that would, for one reason or another, change their lives forever. Their tales of heroism and sacrifice are countless.
It is no surprise then, that a remarkable 175 people from the Commonwealth, including 66 from Australia, were awarded Britain's highest military honour, the Victoria Cross. These were men like Alexander Burton, an ironmonger from Kyneton, Victoria, who enlisted in the Australian Imperial Force. He was one of nine Australian soldiers awarded the Victoria Cross during fighting against the Turks at Gallipoli. Despite determined Turkish counter-attacks on a newly captured trench on 9 August 1915, Corporal Burton repeatedly repulsed the enemy and rebuilt the sandbag defences. He was killed while building up the parapet under a hail of bombs. He was just 22.
During my visit to the Pieta military cemetery in Malta earlier this year, I stood among 1,303 carefully tended grave stones of other brave young British and Anzac servicemen who died from the wounds they sustained in the Gallipoli campaign. I thought of their loved ones, who would surely not have been able to travel the great distances to visit them in their final resting place in the stony soil of Malta. That is why every year I lay a wreath at the Cenotaph in Whitehall as part of the annual Anzac Day memorial service and why everywhere I travel I try to visit a Commonwealth war cemetery – and I was honoured to lay a wreath in the Hall of Memory at the Australian War Memorial in Canberra during my time here. It is also one of the reasons I personally commend the online campaign led by the Royal British Legion called "Every Man Remembered". It aims to gather the public's tributes to every single Commonwealth serviceman and woman who died. As my Prime Minister has said, it is "crucial that we honour the people from overseas – those from Africa to Australia; from India to the West Indies – who served and died alongside our forces … They fought together, they fell together, and together they defended the freedoms we enjoy today". Quite simply, Britain and her allies could not have prevailed without these brave men and women. We owe our friends in the Commonwealth an enormous debt of gratitude.
Some people question the relevance of the Commonwealth in the twenty-first century. I do not. We have seen in recent months that we are living in uncertain and unstable times. As we work for peace, tolerance, prosperity and human rights, we need the Commonwealth more than ever. That is why this Government has brought it back to its rightful place in British foreign policy. Of course, as circumstances change, so must the Commonwealth. We must do more to fulfil its huge potential in building trade and prosperity. We must do more to ensure its citizens have stable, well-governed societies, where human rights are protected. These aims are fundamental to the Commonwealth. It came together to make a better world in 1914 – and it can help us tackle the challenges our generation faces today. So we must continue to give it our full support: not only to honour those who fell, but to protect those beliefs and freedoms for which they so bravely fought.
Document information
Published: 5 September 2014