IN PICTURES: RAF celebrates Search and Rescue 70th anniversary
The Royal Air Force has this month celebrated the 70th anniversary of its Search and Rescue Force (SARF).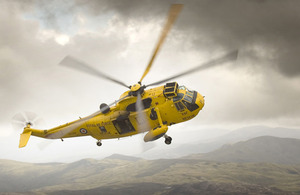 Born of lessons learnt from the Battle of Britain, SARF's predecessor, the Directorate of Air Sea Rescue (ASR), was formed at the headquarters of RAF Coastal Command in 1941.
ASR's mandate was to form a combined and effective rescue service for downed allied aircrew that were being lost at an alarming rate in the seas around Britain.
Since 1941, tens of thousands of lives have been saved by the men and women of ASR and SARF, operating from marine craft, fixed-wing aircraft and helicopters.
They have been ably assisted in this task by HM Coastguard since 1971.
Project officer Squadron Leader Spike Wright from RAF Valley said:
It's important that we remember and recognise as a nation the devotion to duty and life-saving shown by the personnel of Search and Rescue who regularly risk their lives to save others.
To celebrate this anniversary year, SARF is planning to have the fleet of yellow RAF Sea King helicopters decorated with a specially-designed 70th anniversary emblem which will also appear on a set of stamps for the Falkland and Ascension Islands.
Published 11 February 2011