IN PICTURES: 12 Mechanized Brigade trains in Canada
Units from 12 Mechanized Brigade have been training at BATUS (British Army Training Unit Suffield), on the prairies of Canada, in preparation for their deployment to Afghanistan in early 2012.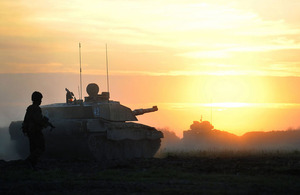 The exercise, which has been going on for the past three months, includes a live fire stage featuring General Purpose Machine Guns, AS-90 heavy artillery guns, Challenger 2 main battle tanks, and Warrior armoured vehicles.
Also included is a Tactical Engagement Simulator Exercise, which involves no live ammunition, and aims to further develop the skills learnt during the live fire stage in a safe environment.
The soldiers use a computer-backed, laser-quest-style system fitted to their weapons and vehicles to record every detail of an attack, showing simulated injuries from gunfire, shrapnel or mortar attack during a mission.
See a gallery of photographs from the exercise at Related Links.
Published 27 July 2011