World news story
Improving Turks and Caicos Immigration
Thirteen new recruits to the TCI Immigration Department were officially welcomed into the public service today, Wednesday, 12 February 2014.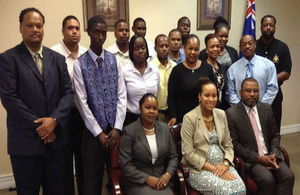 Deputy Governor Anya Williams, Minister of Border Control Donhue Gardiner and Permanent Secretary Clara Gardiner met their new staff, and outlined their plans for the ongoing improvement of the immigration service, as well as their professional expectations of the new officers.
The thirteen new recruits began their service in December 2013, and have completed their initial training. They have been employed to improving the efficiency of the department, and will work across the immigration front line at the airports, illegal immigrant detention centre as well as the immigration department offices. Specifically, it is intended that their appointment will reduce the cost of both overtime and the need for additional private security firms at the detention centre.
Deputy Governor Williams said:
This is the single largest tranche of recruitment that government has made recently. The Immigration Department has great responsibilities and it is hoped that our new colleagues will be instrumental in helping the department do its job better. These appointments forms a part of our commitment to reform the Ministry of Border Control.
Minister of Border Control Gardiner added:
This will be a year of transformation for the Ministry of Border Control as we continue to provide the manpower, resources and appropriate legislative framework to provide a professional public service and to counter the threat of illegal migration to our islands – already unacceptably over 1% of our government's entire budget. This investment in new people is one way in which we are protecting our shores for citizens and visitors alike, as well as improving staff working conditions and investing in a purpose built IT system.
Published 12 February 2014