World news story
Improving Transparent Business Practices in Angola
A British Parliamentary delegation met with the Centre of Ethics Angola to discuss their work to improve transparent business practices.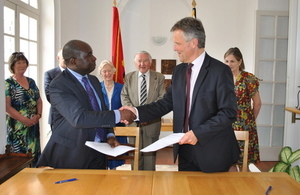 The British Group of the Inter-Parliamentary Union (BGIPU) headed by Rt.Hon. Lord Steel of Aikwood met representatives from the Centre of Ethics Angola (CEA) to discuss their activities, which focus on setting ethical standards and good governance practices in business, and on advocating a more ethical society. To this end, CEA helps the public and private sectors in Angola to incorporate ethics management into their organisations and offers advisory services, training and assessment.
CEA is an Angolan non-governmental organisation, which started in 2013 with the help of UK financial assistance and works to establish institutional collaboration cooperation and partnerships with Angolan professional institutions, government agencies and international agencies.
The Parliamentary Delegation were present as project funding was confirmed by the British Ambassador John Dennis. The money will be used to assist in improving responsible and transparent business practices in Angola through a series of workshops, seminars, conferences and training sessions for public and private organisations. It will also provide advisory support for UK firms in Angola on transparency issues.
Antonio Muhungo CEO stated "It is with great pleasure that CEA enters this partnership with the British Embassy – a partner who like CEA is committed to improving responsible and transparent business practices in Angola."
The British Ambassador in Angola John Dennis said "we support the work of CEA closely Its work draws on relevant UK expertise, and helps Angolan Private and Public sector institutions to build a more transparent, equitable and just country in which all people can live in a responsible, ethical and transparent manner."
Published 20 October 2015