Improving TCI outlook welcomed at JMC
The Turks and Caicos Islands Premier reports on his successful participation at the UK Overseas Territories Joint Ministerial Conference.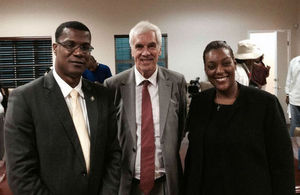 Leaders from all 14 UK OTs were hosted by Foreign and Commonwealth Minister Mark Simmonds in London 26-27 November 2013. The TCI was represented by Hon. Premier, Dr Rufus Ewing, Deputy Premier, Hon. Akierra Missick and by His Excellency Governor Peter Beckingham, who also attended.
JMCs allow UK Ministers and OT leaders the opportunity to discuss how to increase growth and prosperity. Premier Ewing and the other OT leaders had individual and collective opportunities to meet with UK Ministers, to network with officials from other UK government departments, and to meet prospective UK-based and international commercial investors.
All OTs agreed that their local investment agencies will work with UK development bodies, such as UK Trade and Investment, and to make better use of the international network of British Embassies, High Commissions and Governor's Offices. More work will be undertaken to develop employment and education opportunities, including accessing vocational training for the people of the OTs.
The UK recognised the contribution of the OTs to a well regulated global financial services industry through their commitment to transparency and tax information exchange, with more than 160 transparency agreements already signed.
Support for the rich environmental assets of the OTs, which account for around 90% of all British biodiversity, was provided by an additional £2m for environmental projects. The Turks and Caicos will receive nearly £200,000 of this over cash over the next two years to help conserve its endangered Caicos Pine trees.
The UK restated its support for the people of any of its OTs to have the right to vote for independence, should they wish to do so, and to accept their decision.
During the JMC Premier Ewing had particularly useful exchanges with Alan Duncan, Minister, UK Department for International Development. Minister Duncan noted to the Premier that the projected trajectory for the TCI economy looked very good, while expressing his hopes that a simplified tax system would be implemented in the TCI at the earliest opportunity, after public consultation.
Minister Duncan encouraged the TCI to immediately begin investigations into new funding options to replace the $260m UK loan guarantee which expires in 2016. This will see TCI repay c.$100m to its bond holders at that time and refinance its remaining $80-100m of debt on its own sustainable terms, having seen its negotiating position greatly improved by both its repayment and record of fiscal surpluses. The Premier and Minister also discussed illegal immigration from Haiti, and agreed to closely monitor developments.
There was a real sense of collective optimism, a desire to grow and to develop together at the JMC," said Governor Peter Beckingham. "I am looking forward to working together with Premier Ewing over the next 12 months of the actions agreed to in the communiqué and reporting our joint successes to our fellow OTs at next year's event.
The coming together of the OT Leaders at the JMC has demonstrated that while each of our territories are uniquely different, the sharing of experiences and the state of affairs as it is in our countries highlight that largely we are all faced with similar challenges that provide the opportunity for a collective approach. This goes a long way in building the One Caribbean concept and fostering the relationship among the territories which enables the successful transfer and sharing of ideas, resources and best practices," said Premier Ewing.
We were indeed pleased to see, and know, that the UK government is committed to not only building the relationship between her and the territories but have also paid a keen ear, and heard our cries for support for our national programs and social services and so we must do our part and take up the offers made and capitalize on the opportunities for strengthening our education, health, financial and immigration systems and hold them accountable to the commitments that they have made to us. It was a very successful event and the Ministers and I have already begun to engage with institutions that can provide the resources needed to further our people and to help build a better Turks and Caicos.
Published 4 December 2013