News story
Improving rail for customers: £6 million for digital innovation
Businesses can apply for a share of £6 million to support new digital technologies that improve customer experience on railways.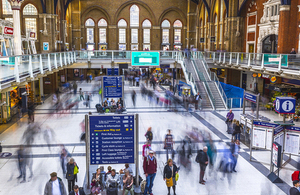 Innovate UK and the FutureRailway programme are to invest up to £6 million to support business innovation in digital technologies that improve the customer experience in UK and international rail markets.
The rail industry's 'Rail Technical Strategy', a 30-year vision of technology requirements, prioritises improvements in use of data and information and their translation into systems and services that cut cost, improve operations and benefit customers.
Digital technology offers clear business opportunities across a global rail market worth around £150 billion a year.
Projects should demonstrate how they respond to some of the main challenges facing the rail industry including:
increasing capacity, opportunity and ease of use for freight customers
integrating other modes of transport into rail
improving passenger comfort and facilities
provision of real-time information
improving cycling access and facilities
transforming station design
providing a universal customer database
Competition information
the competition opens on 9 March 2015
the deadline for registration is midday on 15 April 2015
there will be briefing and networking events for potential applicants in Coventry on 2 March 2015 and London on 18 March 2015
we expect projects to last between 1 and 3 years and to range in size from total costs of £250,000 to £2 million
Published 25 February 2015