World news story
Improving intercultural understanding in Macedonia
British Embassy supports project work for enhanced intercultural issues with municipalities in Macedonia.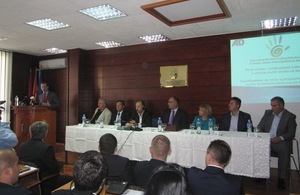 Mayors of six multiethnic municipalities in Macedonia along with the Association for Democratic Initiatives (ADI) in Gostivar will work on a project aimed at improving intercultural understanding. The work comes under a British Embassy supported project and will be implemented in the municipalities of: Gostivar, Tetovo, Kichevo, Brvenica, Vrapchiste and Jegunovce. This initiative aims to provide citizens and youths with enhanced intercultural understanding, recognition and appreciation of diverse ethnic, religious and cultural backgrounds. The project will assist six pilot municipalities to develop and implement intercultural policies and strategies. Implementation will include work with local governments, relevant institutions with the mandate to promote and protect human rights, civil society organizations, and media.
Speaking at the promotion ceremony, Ambassador Christopher Yvon said:
I would like to commend the wide interest and enthusiasm being shown in this project. Any project aimed at diversity and inclusiveness must itself have a broad platform of approach, include as many voices as possible and aim to enhance the quality of debate. The UK has longstanding experience of welcoming people who offer different cultural perspectives and bring varied backgrounds and experiences, all of which can serve to enrich British society. The UK believes that diversity is a fundamental strength within society which can expand the terms of public debate and drive up the quality of decision-making at all levels.
The project will be implemented by the civil society organisation Association for Democratic Initiatives (ADI) based in Gostivar, and last until March 2015. It will include work with mayors, local councils, municipal committees for interethnic relations, together with civil society organisations active in promoting intercultural dialogue, minority and human rights issues.
Published 24 September 2013