World news story
Improving health in the Kasaï Occidental province in DRC
Launch of bed nets distribution campaign and inauguration of two health facilities in the Kasaï Occidental province in the DRC.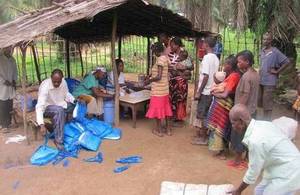 Today, 20 November, we travelled to Kananga, in the Kasaï Occidental province of the Democratic Republic of Congo (DRC), for two important events.
First we launched a mass distribution campaign of insecticide treated bed nets that will protect 8 million vulnerable people across the whole province. Around 3.8 million bed nets will be distributed in 35 of the 44 health zones of Kasaï Occidental. This project is funded by UK aid and implemented by PSI/ASF, our long-time partner in the fight against malaria in the DRC, and the DRC national programme for fight against malaria (PNLP). We have coordinated activities with our partner IMA World Health, who will distribute bed nets in the remaining 9 health zones, following the hang up approach, to ensure the whole province is covered.
In the speech she gave at the launch event, the Deputy Head of DFID DRC, Charlotte Duncan said:
Treated bed nets are the simplest and most effective way to prevent malaria.

Today is an important day for the province and for us, because it ensures the commitments we made last year are kept. This distribution campaign is a good opportunity for us to show our commitment to tackling poverty. Reducing the burden of malaria will improve the lives of the people and reduce poverty in the province.

We support priority interventions targeted in the 2013-2015 strategic plan of the Programme National de Lutte contre le Paludisme (PNLP – National Programme to Fight Malaria).
On the same day, we inaugurated two new health facilities built and equipped through our Access to Primary Healthcare in the DRC programme, implemented by IMA World Health, in close collaboration with the DRC Health Ministry. These facilities have been equipped with material, medicines and their staff trained, following our strategy of a holistic support to the health sector.
On this occasion, Larry Sthreshley, Country Director of IMA World Health DRC, said:
The ASSP project works in harmony with the National Health Development Plan to bring improved health to more than 9 million people in the DRC. It is an honour and a privilege to work with the British Government and the Ministry of Health to improve access to health clinics for the people of the DRC.
Published 20 November 2014