Press release
Improving flood defences in Jaywick
The Environment Agency are carrying out repairs to the flood defences in Jaywick.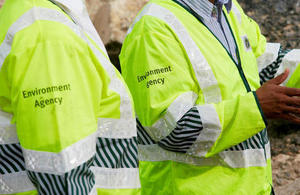 Most of the work will be happening between Lions Point and Belsize Avenue where the wall is being repaired. The floodgates are located across the Jaywick frontage. There may be other repairs going on in the local area.
The work started in early October and will last for up to 12 weeks. The floodgates will be removed for short periods of time when the tides are at their lowest. The floodgates require regular maintenance to ensure they work effectively during high tides.
Essex Operations Officer Naomi Drown says:
We are repairing the wall in front of the Brooklands estate, and undertaking routine maintenance work on the Jaywick floodgates. These repairs are important for reducing the flood risk to the area.

We will remove each floodgate to do necessary maintenance and repairs, before putting it back in place. For the Brooklands flood defence wall we will be doing patch repairs to the damaged concrete. During this time there will be operatives working in the road adjacent to the Brooklands wall, however the road will remain open. We will normally be working between 7:30am and 5pm
The seawall and the floodgates provide a high standard of flood protection to the people and property of Jaywick.
The work is occurring during the Flood Action campaign, organised by the Environment Agency, which aims to increase the number of people who check their flood risk. Check your postcode, sign up for free flood warnings and find out more at www.gov.uk/floodsdestroy
Published 2 November 2016